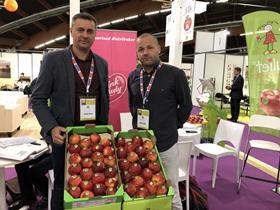 French consumers are being swamped by a plethora of confusing 'semi-organic' labels that they don't fully understand and are potentially damaging sales.
That was the message from several French producers on the opening day of the Medfel trade show in Perpignan, which features predominantly Mediterranean growers and suppliers from across the organic spectrum.
At one end of the scale is organic produce carrying the 'Bio' label, supplied by the likes of Prince de Bretagne and Cardell Export, which is the sole exporter of the organic apple variety Juliet.
In the past couple of years, other labels such as 'without pesticides' and 'zero pesticide residues' have also cropped up, offering a middle way between organic and conventional production.
Cardell's director of operations Pierre Gratacos believes there are now simply too many labels to choose from. "It needs to be clarified a little bit," he said. "Bio is organic – for me it's very clear – but when you have something a bit more complicated, it takes longer for people to understand.
"It's mainly coming from the retailers, who want to distinguish themselves from one another and differentiate the products on their shelves. They're saying: 'I'm justifying a price that is a little bit higher because I'm following these rules.' But there are too many messages now, and I think people are hesitating to buy these products."
Gratacos claims that organic is the only label that French consumers are really confident about, however Claire Gourves-Simon of French tomato and strawberry producer Savéol begs to differ, saying consumers do understand the 'Grown without pesticides' label and what it means.
Although no pesticides are used in Saveol's tomato production, they cannot be classified as organic since they are grown hydroponically in coco coir or rockwool.
Since Savéol joined forces with Prince de Bretagne and fellow tomato producer Solarenn to create the 'Grown without pesticides' label in February 2018, all the major French retailers have started selling produce 'grown without pesticides'.
Gourves-Simon says she thinks the products have already achieved a good market share, finding their place between conventional and organic produce.
The company has tried to raise awareness of the label through press coverage, in-store marketing and Saveol's presence at major trade shows such as the Salon de l'Agriculture, but she accepts that continued communication is needed to continue to educate consumers.
As for 'zero pesticide residues', French artichoke grower Fruit Union says the mark allows products to be grown cheaper and more easily, facilitating a lower price for the consumer.