Fruvenh project encourages consumers to discover the qualities of Italian cherries through the summer months
Fruit and Veg Natural Health! (Fruvenh), the project jointly funded by the European Union and several leading Italian fresh produce organisations, is turning the spotlight on cherries this summer.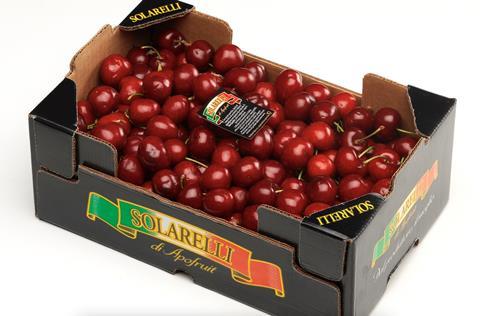 The project involves AOP Gruppo Vi.Va., Almaverde Bio, Apofruit, Codma, Coop Sole, Mongolfiera, Ortoromi, Pempacorer, Solarelli and Op TerrediBari, promoting a healthy lifestyle and the values of European fruit and vegetables among consumers in Italy, Romania and the Netherlands.
Fruvenh noted how summer puts the colour red in the spotlight, which "represents strength and safety and transmits to the consumer the certainty of doing something good for their health".
"This effect in neuroscience is called priming and it is attributed to the red fruits, which allows to associate the product with positive mental connotations, often linked to well-being, healthiness but also to sweetness and goodness," Fruvenh outlined.
Cherries, the project explained, were always associated with tastiness, happiness, summer and well-being.
"Solarelli cherries are constantly increasing market shares, this due to a rigorously production in the most suitable areas and an attentive selection in order to obtain an exceptional taste," said Gianluca Casadio, marketing manager of Apofruit.
"The production model makes the difference," he continued, "We have developed production and protection techniques capable of optimising the quality of the cherries, starting first and foremost with a careful choice of varieties, optimal agronomic management and post-harvest selection. The excellent production of the Vignola area, enhanced by the PGI brand, should also be emphasised this year."
"Cherries with the Almaverde Bio biodynamic brand and characterised by an innovative selection of very colourful varieties and with a medium-large size are also very good," said Almaverde Bio director Paolo Pari.
"We started producing biodynamic cherries under the Almaverde Bio brand a few years ago. The consumer appreciates above all the excellent taste and the safety transmitted."
Consumers have continued to purchase cherries thanks to their contribution to health, their convenience and taste, Fruvenh confirmed, as well as their benefits to mental wellbeing.