Companies have until end of July to reserve stand space for next year's show, which takes place on 7-9 February 2024
Fruit Logistica, the leading trade show for the global fresh produce business, has opened exhibitor registrations for its 2024 edition. Companies have until the end of July to register for next year's show.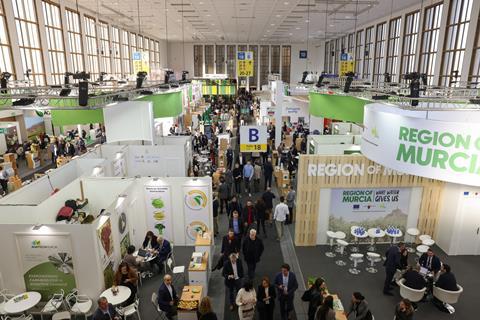 The next Fruit Logistica will take place from 7 to 9 February 2024. The fair's new motto, 'The Heartbeat of the Fresh Produce Business', reflects the exhibition's central importance to the industry and its ability to sustain and inspire new commercial growth.
Almost 63,000 trade visitors came to this year's show, which featured 2,600 exhibitors from 140 countries across five continents. More than 75 per cent of those visitors were in managerial positions.
Almost 90 per cent of exhibitors expected their participation to have a positive impact on their business.
"Fruit Logistica brings all the right people together, provides them with the latest information, and offers them a platform to present their most recent innovations," said event director Kai Mangelberger. "As such, you can emerge from these stormy times with the wind in your sails."
Exhibitors are invited to register for Fruit Logistica 2024 by 31 July 2023 latest. Full details on how to register for a stand can be found on the Fruit Logistica website.