Fruit Logistica opens its doors bigger and better than ever, say organisers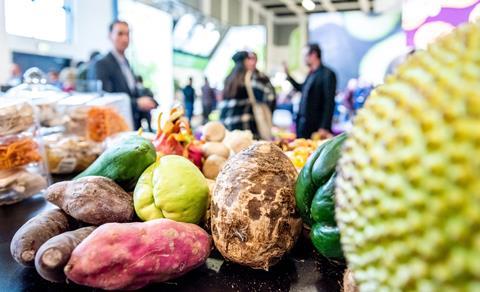 The leading trade show for the global fruit and vegetable business has opened in Berlin for its most international edition ever today (8 February), with around 2,600 exhibitors from 92 countries and all parts of the fresh produce value chain.
Fruit Logistica, which returned to its usual February slot after being postponed to April last year, expects to welcome trade visitors from over 140 countries to its 27 exhibition halls over the course of the three-day event.
"At Fruit Logistica, we bring the right people together, provide the industry with the latest information, and offer a platform for the latest innovations," said Kai Mangelberger, the event's director, speaking on the opening day.
Fresh produce companies face major difficulties right now – supply chain disruption, cost inflation, high energy prices, and lower consumer spending – and that closeness is an invaluable way to overcome such challenges, he added.
"We are the place where the industry not only comes together under one roof, but also moves closer together."
The presence of around 40 country pavilions means the exhibition area at Fruit Logistica 2023 exceeds even pre-pandemic levels, he said. And Spain underlines its position as a leading exporter, with more companies present than ever: 279 exhibitors cover more than 11,000m2 in four halls this year, while several others are located elsewhere as part of themed exhibition segments.
Over the first two days of the fair, buyers and trade visitors can also head to a designated area between Halls 20 and 21 to vote for one of ten nominees for the Fruit Logistica Innovation Award, the winner of which will be announced at 14:30 on Friday.
Meanwhile, in Hall 3.1, innovative smart agriculture companies present a range of digital solutions, including AI-assisted harvester robots, precision sprayer drones, advanced irrigation concepts, and autonomous field vehicles.
And on the last day, Fruit Logistica Start-up Day transforms Hall 2.1 into the go-to place for breakthrough technologies. There, 20 of the world's most innovative start-ups present their products, projects and ideas in the Start-up Area.
A conference programme runs concurrently over the three days across five stages: the Fresh Produce Forum, the Future Lab, the Logistics Hub, the Tech Stage and the Start-up Stage.