Group partners with food charities as it focuses on improving access to healthy nutrition
To mark UN International Day of Awareness of Food Loss and Waste, Fyffes has partnered with food charities across the globe as it looks to ensure that the most vulnerable in society continue to have access to healthy nutrition.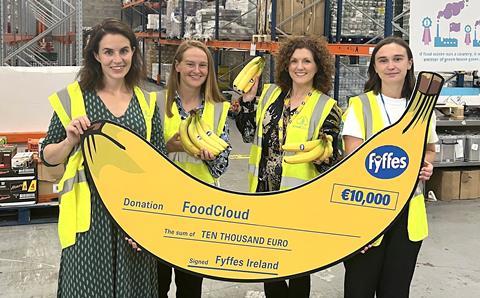 For 2022, Fyffes has chosen food banks and food charities as the recipients of its European and North American community investment donations.
In addition to the regular donations of fresh fruits, Fyffes has donated €10,000 to FoodCloud in Ireland to ensure the organisation can maximise the use of their surplus food to support their 600 community partners.
In addition, Fyffes donated just over €5,000 each to food charities Fareshare in the UK, Voedselbank in the Netherlands and Hamburger Tafel e.V. in Germany, as well as Feeding South Florida in the USA, an organisation located nearby Fyffes melon distribution centre.
According to Fyffes, the donations help it achieve its sustainability commitments, which are to reduce food loss in all its own operations by 80 per cent by 2030 and provide 5m healthy meals to vulnerable communities by 2025 by working with qualified partners.
"Since the 2020 target was set, Fyffes has provided nearly 4m healthy meals to vulnerable communities, including over 848,000 meals to communities near Fyffes fruit farms in Latin America where access to healthy produce remains a challenge despite the abundance of fresh produce in the locality," said Fyffes sustainability manager Stella Davis.
"We are on track to comfortably exceed our target before the 2025 deadline," she added. "At Fyffes we are determined to reduce food loss and ensure the surplus reaches people who will benefit from our healthy produce."