Carton Pack has developed a range of greener packaging solutions for tomatoes that offer a number of benefits to the supply chain without compromising on quality
Packaging group Carton Pack says that sustainability remains a priority for the company, and that it renews its dedication to this cause every year by working on innovative packaging solutions that comply with European regulations.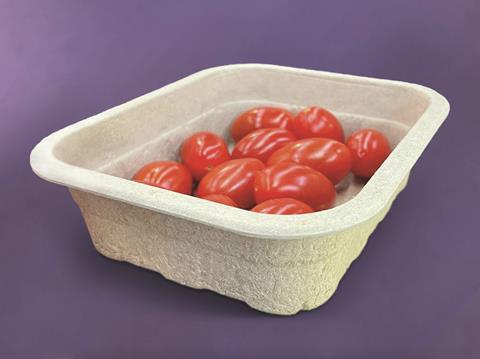 According to Carton Pack communications manager Floriana Vitale, the group's global experience in the packaging of fresh products has allowed it to develop a range of innovative solutions dedicated to tomatoes, following a path of sustainable development that incorporates the correct management of materials and their reuse in an environmental, economic and functional sense.
"This year we are presenting the new line of pulp products, heat-sealable containers, which represent the correct alternative to plastic, especially for markets where the latter has been prohibited by law," says Vitale. "In particular, heat-sealing packaging for tomatoes is spreading with enthusiasm from the UK and throughout those European countries committed to sustainability."
The growth of this trend has a number of benefits, she continues. There is a tangible decrease in waste and the amount of plastic used in the packaging, a reduction of between 30 and 40 per cent.
It also offers greater product visibility and from a practical point of view, is less problematic in transport, reducing the possibility that the contents will be spilled, and means greater efficiency in large-scale retailers, resulting in better placement on shelves.
"What the market is asking for most is a sustainable product, alternatives to plastic, or a green solution," Vitale continues. "Carton Pack's path towards sustainability began years ago with the patented Flat Bag paper bags, then with alternatives in paper and cardboard such as Carton Shell, now in its third year of success, and up to joining the Social Plastic Project, in collaboration with Plastic Bank, which deals with recovering plastic from the beaches and the environment before it ends up in the seas and oceans.
"This is an initiative that gives new value to plastic material and improves the condition of our ecosystems."
She says that the packaging models made with 100 per cent 'social plastic' recycled raw material, guarantee Carton Pack's customers a product of the highest quality without any difference in terms of resistance and product quality.
"They're recognisable products, as they are marked on the bottom, allowing an easy understanding of the intrinsic values, becoming the vehicle of a new circular economy," Vitale adds.