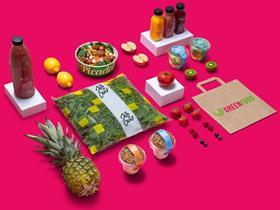 Swedish company Greenfood has attracted more than €100m in new investment funding, which it says it will use to support new sustainability projects and the continued expansion of its healthy fresh food business.
Amid strong reported interest from capital market investors in the Nordic countries and across Europe, the group has successfully issued a four-year bond for €105.9m (SKr1.05bn).
The bond is linked to independently verified sustainability targets set out by the company, which has positioned itself as a leading player in healthy, convenient, food, as well as one that drives technological and environmental progress.
"The bond gives Greenfood greater financial flexibility to invest in more sustainability projects and in future growth," says David von Laskowski, president and CEO of Greenfood Group. "At the same time, the bond is a clear and transparent visualisation of our very ambitious climate targets,"
Sustainable growth
Greenfood's aim is evidently to grow significantly as well as sustainably. It recently acquired a shareholding in Jaguar The Fresh Company, a leading fresh produce importer based in The Netherlands.
Elsewhere, it has invested in a massive new centre in Helsingborg for sustainable and healthy food.
The new facility, which is designed to be more environmentally friendly, features efficient cooling and modern heat recovery systems, as well as solar cells that provide some of the electricity it consumes.
And it has seen considerable growth in its Picadeli salad bar concept, which employs artificial intelligence technology to reduce food waste.
Clear goals
Greenfood has linked its bond to the outcome of three defined sustainability goals. These include a reduction in so-called Scope 1 (direct) and Scope 2 (indirect) greenhouse gas emissions by 55 per cent for each tonne of food it sells.
Second, it wants to define science-based CO2 emission reduction targets and be validated by SBTi; and third, it aims to cut food waste by 20 per cent by 2025, and 45 per cent by 2030.
The Governance Group (TGG) has carried out an independent review of Greenfood's sustainability framework and given it the highest possible rating.
"Getting the highest rating for our sustainability framework is proof that we are developing our sustainability work in the right direction and that the market ratifies our ambitious environmental targets," von Laskowski adds.