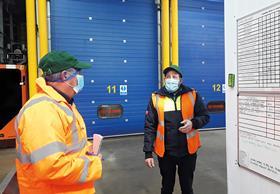 Greenyard has released its Sustainability Report for 2020, highlighting its aims to 'enable the transition to a healthier and more sustainable food supply chain'.
The report, the third of its kind from Greenyard, outlines plans for its sustainable future through four areas of commitment – climate action, water stewardship, responsible sourcing and achieving zero waste.
The world is waking up to the fact that we need to change the way we produce and consume food,' said Marc Zwaaneveld, co-CEO at Greenyard. 'Stimulating greater fruit and vegetable consumption is a key element in the transition towards healthier and more sustainable eating habits.
'We want to make fruit and vegetables more accessible, more convenient and more affordable, so everyone can enjoy their many benefits," he outlined.
Greenyard stated that, as a major provider of fresh produce, it would play an important role in a transition to a healthier future, although it also highlighted there was still much that could be done to reduce the environmental footprint of the sector.
'New technologies allow us to make better use of precious natural resources such as agricultural land, water and energy,' the group highlighted. Bringing production closer to consumption reduces the need for transportation and helps avoid waste.'
As part of a focus on climate, water and packaging, Greenyard undertook a group-wide exercise to understand the factors driving Scope 1 and Scope 2 carbon emissions in its own operations, as well as Scope 3 emissions in the value chain.
The company said it was committed to reducing its greenhouse gas emissions by 50 per cent by the end of 2025, while it is also taking part in the Science Based Targets initiative (SBTi), committing to carbon reduction targets in line with keeping the global average temperature rise below 1.5°C, both in its own operations and the supply chain.
In addition to investing in water use reduction in its own operations, the company said it was committed to mapping the water risk for its entire grower base by 2025, and that it was also redoubling efforts to 'achieve the optimal balance between sustainable packaging and longer shelf-life' – 100 per cent of its consumer packaging will be recyclable by 2025.
In terms of stimulating sustainable trade, the group said it would look to safeguard social standards along the supply chain, conducting business only with suppliers who demonstrate they comply with international and national labour laws, particularly in 'risk origins'.
"We realise this is not a path we can take alone,' noted Hein Deprez, co-CEO of Greenyard. 'Collaborating closely with our stakeholders has been a major part of our DNA ever since our inception.
'Over the years, we've built strong partnerships with growers and retailers allowing us to achieve sustainability improvements along our entire value chain, while developing a product portfolio to appeal to today's customers and inspire healthy lifestyles," he added.