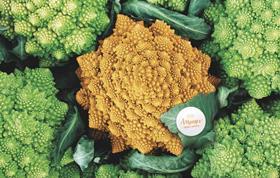 Vegetable seed company HM.Clause is back in Berlin with another nomination for the Fruit Logistica Innovation Award.
Having won silver in 2018 for its Adora tomato brand, HM.Clause has this year been nominated for its orange romanesco cauliflower brand, Amoresco, with the winner announced on 7 April.
Launched on the Italian market in January 2021, Amoresco is the first orange romanesco cauliflower, bringing a vibrant colour to the dinner table.
"This innovation targets all the actors of the supply chain of Italy, UK, Spain, France and Germany who want to conquer their most demanding customers, consumers and restaurateurs," said Manuel Ferrer, EMEA Foodchain Manager for HM.Clause.
Developed in Italy in collaboration with the CREA Research Centre in Roma, AMO125 is the first variety to enter the Amoresco range.
"Available from November to February, it is perfectly suited for both the fresh and frozen market," the group stated. "It is rich in beta carotene, very sweet and keeps its colour after cooking, offering a surprising experience to the consumer. In addition, its colour and fun shape are a good way to introduce children to cabbage and vegetables."
Giovanni Canino, Foodchain Specialist at HM.Clause in Italy, commented: "Soon, the Amoresco range will be extended with the arrival of complementary varieties to broaden product availability. A second variety, AMO145, will be available next year, with a longer cycle extending from February to the end of March."
The group said it was committed to meeting the food challenges of today and tomorrow, creating a secure supply of sustainable, healthy, nutritious and high-quality food.
"The cycle of all food chains always starts with plants," the company stated. "The seed is the most important and only indispensable element in plant production and, as such, is the first link in the food chain. More than ever, HM.Clause is committed to contributing to a balanced environment and to providing a varied choice of vegetables for everyone, everywhere."