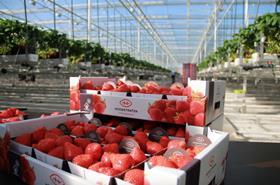 Belgium-based cooperative Hoogstraten has launched its first trade-focused strawberry campaign in the UK market.
The campaign highlights Hoogstraten's premium fresh fruit, which is available year-round and supplied directly from Belgium.
The 2021 promotional campaign will see continuous trade advertising and articles in trade publications and media titles. Berry quality, flavour, and sustainability will be at the forefront of Hoogstraten's campaign.
From the start of September through to the run up to Christmas, the UK is one of the cooperative's biggest and busiest export markets for their strawberries once the British season ends in August.
Every year, approximately two thirds of Hoogstraten's strawberries are exported to the UK and other European destinations.
"We anticipate starting to supply the UK market with increasing volumes towards the end of September and are already now seeing a strong demand and more requests than in a normal year, which indicates a strong demand from the UK as the British strawberry season comes to an end,' said Synnøve Johansson, business development manager at Hoogstraten.
Assuming weather conditions are ideal, the cooperative is currently expecting its volumes for the coming season to be in line with last year's supply, if not slightly above.
Recent average temperatures and ample water supply from a particularly wet summer are ensuing strong plant material for the propagation and the setting of next year's strawberry crop, the cooperative noted.
"In the coming months, our fruit quality is expected to remain excellent,' Johansson added. 'The temperatures have been good for fruit setting, indicating a good spread of the crop that will ensure a steady supply for the coming months.
'At this stage, all indications are that we expect our usual excellent quality – the only thing we need now is some more sunshine for the strawberries to grow and ripen, and for the sugars to develop fully."