The International Fund for Agricultural Development is "substantially" strengthening support for drought-hit Somalia with the aim of building rural resilience
Support from the International Fund for Agricultural Development (IFAD) for drought-stricken Somalia is set to resume after a three decade-long suspension.
Now that the country has cleared its debt with IFAD through member state support, direct investments would resume, according to IFAD president Alvaro Lario, while support would be strengthened "substantially".
The historic drought in the country continues to push millions into acute food insecurity, he said, demanding long-term solutions in the form of rural development.
"Today, the situation of millions of Somalis is heartbreaking," said Lario. "Five consecutive seasons of rains have failed, devastating their lives and their ability to cope, which has been further eroded by conflict, climate shocks, desert locust outbreaks and high food, fuel and fertiliser prices. We must provide humanitarian assistance to save lives now, but it is equally important that we lay the foundation today to ensure a brighter future."
Hassan Sheikh Mohamud, president of the Federal Republic of Somalia, emphasised the importance of IFAD's renewed commitment: "This re-engagement is an opportunity for a new dawn for Somalia to address many food security priorities in the country. The re-engagement of IFAD is the beginning of the process of transition from humanitarian to development and it helps a lot – it is opening doors, and other organisations will follow suit."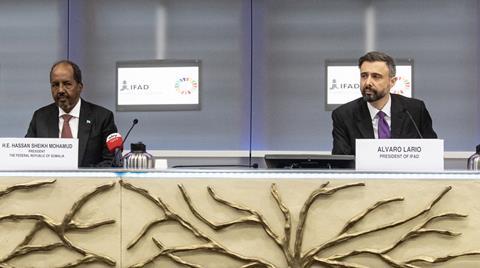 Lario announced that IFAD is immediately making US$11.6m available and mobilising resources for a new US$50m agricultural development project, providing seeds, irrigation, farming and veterinary services, small micro-finance loans and training in climate smart and adaptation techniques.
"We must help small-scale farmers and pastoralists adapt to climate change and build their resilience so that they can cope with future shocks," said Lario. "They need funding and training."
Belgium, Germany, Italy and Sweden supported Somalia in clearing its arrears, which had prevented the country from benefiting from IFAD's highly concessional loans and grants since the civil war began in 1991, although IFAD said it had continued to mobilise grants from donors, channeling resources for rural development projects in Somalia.
Jochen Flasbarth, state secretary, Federal Ministry of Economic Cooperation and Development of Germany, commented: "We have taken this rather unusual bilateral step in order to boost Somalia's efforts to withstand economic and climatic shocks and in order to strengthen institutions and ownership in times of crisis so as to leverage further financing for climate-resilient agriculture."
"The climate crisis has severe consequences on agriculture and food production in the world's poorest countries," added Belgian ambassador Pierre-Emanuel De Bauw, Belgium's governor to IFAD. "It is urgent that we strengthen the resilience of rural populations in these countries."