Unique variety added a new flavour profile to the table grape category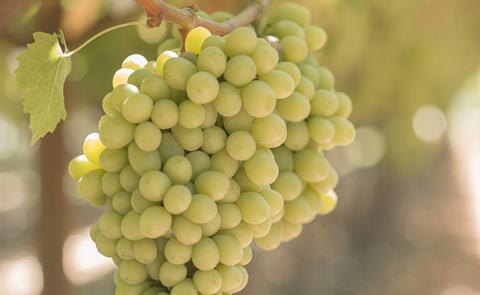 International Fruit Genetics (IFG), has celebrated the twentieth anniversary of breeding the table grape variety Cotton Candy in 2023.
The Cotton Candy grape was first naturally bred in 2003 by geneticist, horticulturalist, and co-founder of IFG David Cain, but it took ten more years before the grape started to appear in retail stores.
It was the first of IFG's highly flavoured novelty varieties, which captured the attention of retailers and consumers around the world with its toffee-like taste.
"Today's consumer wants new and unique flavors that provide a memorable eating experience. Cotton Candy grapes were one of the first products in the produce aisle to deliver this type of experience, and Sprouts was excited to participate in its launch," said Matthew DeCeault, innovation manager, produce of US retailer Sprouts Farmers Market.
"As our top selling specialty grape, Sprouts is proud to carry this variety on shelf and excited for the next generation of IFG grape releases required to fuel growth in the table grape category. Cheers to David Cain and the team at IFG!"
Retailers from the UK have expressed a similar sentiment including Paul Farmer of Marks and Spencer (M&S).
"M&S is extremely proud to be the pioneer of Cotton Candy™ grapes in the UK market alongside IFG. Cotton Candy grapes continues to be a favourite of M&S customers – especially children or anyone with a sweet tooth," Farmer said.
"With greater availability due to wider global planting, we are incredibly pleased to see the Cotton Candy grape being featured on our shelves throughout the year."
The story of the Cotton Candy grape began in 2003 a few years after Cain started IFG with the goal of producing novel table grape varieties.
Researchers from the University of Arkansas's fruit breeding programme were showcasing a purple Concord grape, that had a certain flavour that intrigued Cain. He decided to join forces with John Clark, the programme's director and a horticulture professor within the university's System Division of Agriculture.
From there Cain went to work cross-pollinating their grapes with a dozen California varieties on his test fields in Delano, California.
A few years later, when seedlings were fruiting, a group of school children touring the IFG facilities were given a chance to taste the grapes and immediately the students said the grapes tasted like "cotton candy" and the name was born.
"David wanted to bring back the natural flavours of grapes, which had been stripped away by decades of breeding the fruit to withstand the challenges of shipping and storage," said Andy Higgins, chief, executive of IFG.
"His goal was to offer consumers a whole new way to enjoy grapes and offer customers exceptional tasting varieties for table-grapes that one sees with other fruit such as apples and other fruits with more varieties and choices.
"We are very consumer-oriented at IFG – we want our customers to have the best tasting experience possible, so when we naturally breed our grapes, we start with the consumer expectation in mind and then work our way backwards," Higgins continued.
"These trends have taught us that among younger consumers, there is room for flavoured varieties like Cotton Candy grapes."
James Cackett, technical manager produce - citrus, grape, melon, pineapple for UK retailer Tesco said the variety was a "phenomenon".
"Cotton Candy grapes buck all the trends with its unique flavour that is enjoyed by all. It's a variety of table grape that the customers can never get enough of," said Cackett.
"I have seen the evolution of the variety turn global and customer reaction to Cotton Candy grapes has been amazing, something that turned mainstream table grapes into a family favourite. There are not many varieties that resonate with Tesco customers, but Cotton Candy grapes are certainly one."