100 per cent recyclable rPET punnets feature absorbent paper pad to cut the amount of plastic used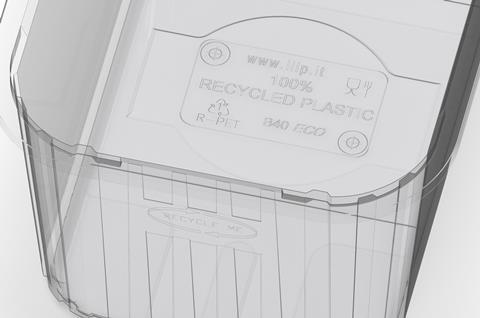 Ilip has launched a new rPET punnet for strawberries and other delicate fruits. The B40 punnet has an absorbent paper pad in the base instead of the micro-bubble plastic pad, allowing packagers to reduce the quantity of plastic they use while still protecting the fruit.
After use, the punnet and pad can be easily separated and disposed of in separate waste collection systems.
The new punnet is one of a range of innovations Ilip will be showcasing at Fruit Logistica in Berlin.
Also for berries, Ilip is launching the 100 per cent recyclable B40 Air Wave protective punnet in rPET, with a rounded base to soften any impact suffered during transport and at the point of sale, without the need for the absorbent microbubble or cellulose insert.
Other innovations on show at the fair include the Smart Ripe Trolley, an evolution of the Smart Ripe technology that can "read" the ripeness of tropical fruit.
"The sustainable approach drives Ilip not only in innovating the product but also in the production process," the company said.
This approach to the circular economy will be reflected in the layout of the stand, with wall graphics outlining the benefits of "tray-to-tray" recycled rPET.
"Ilip closes the circle by producing rPET trays with the secondary raw material deriving from the post-consumption recycling of other PET or R-PET trays," the company said.
"The Ilpa group, of which Ilip is a member, has vertically integrated the rPET supply chain and has a cutting-edge recycling plant, where it mechanically recycles post-consumption PET bottles and containers for food to obtain, in line with the circular economy approach, secondary raw materials in the form of flakes, which it can then use in its products.
"With an annual recycling capacity of 60,000 tonnes of PET, the group helps reduce the environmental impact of the products it recycles and those it manufactures, in order to achieve the Italian plastic packaging recycling objectives, thereby achieving circular economy targets in Europe.