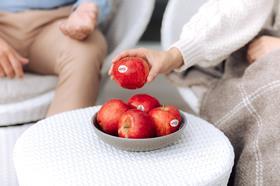 Italian companies Vog and Vip are to roll out a "high-impact" marketing campaign for Envy, the sweet, premium club apple variety produced in South Tyrol and other parts of the world under licence from New Zealand group Enza / Turners & Growers.
The campaign will target customers and consumers through PR and extensive social media promotion, as well as organising the distribution of sales materials and sampling events at point of sale.
It will also include, for the first time, a dedicated television advertisement, which will be shown from the start of next year.
"We are really excited to announce that from January 2022, we will broadcast Envy's first television commercial," commented Hannes Tauber, marketing manager at Vog.
"It will be an important tool to communicate with a wide audience about this apple's extraordinary sensory characteristics," he continued, "starting with its purity, and highlighting strongly its beauty, which it has inside and out, via the message: tasting is believing."
Focus on purity
Purity will continue to be the common thread running through this year's digital campaign concept, led by the hashtag #purestories.
"This year, we want to involve those people who offer and sell Envy apples to their own customers," says Benjamin Laimer, marketing manager at Vip.
"That means the retailers and the wholesalers, the real experts and connoisseurs of the apple's supersweet characteristics, who will be the external references who will talk about Envy's purity through various stories on Instagram."
Momentum in Europe
Sales of European-grown Envy have reportedly begun well. "It promises to be a truly dynamic season for Envy, an apple that is conquering a larger and larger market share every year," says Klaus Hölzl, Vog's sales manager.
"The quality this year is excellent: we've achieved perfect colouring with our Envy and we have ideal sizes, which meet the needs of all our customers and end consumers.'
Envy is mainly marketed through retail and wholesale channels in Italy, but is also sold abroad in Scandinavia, Germany and Spain.
This season, the two South Tyrolean consortia expect to increase their volume significantly to a combined total of around 10,800 tonnes, which include 250 tonnes of organic.
"All of the conditions are in place to do very well this season too," comments Fabio Zanesco, commercial director of Vip. "We will have Envy apples available until the end of April. We are registering strong interest not only from the national market and the main European markets, but also from destinations that we had not yet served."