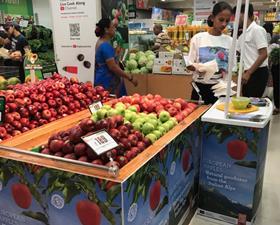 Italy appears to have secured a vital, albeit temporary, exemption from new import regulations in India, which now requires certain fruit and vegetable imports to be certified as non-GMO.
The law, which came into force on 1 March following a three-month postponement, means that a selection of fresh produce imports – including apples, melons, peppers, and tomatoes –must now carry proof they have not been genetically modified.
For many in the business, India's new rule is an example of "irrelevant and burdensome' bureaucracy. None of products on the list are currently authorised for GM production in the EU, rendering the need for a certifying body unnecessary.
Last week, European produce association Freshfel called on EC trade commissioner Vladis Dombroski to secure access for fruit and veg exports to India without the additional paperwork.
According to Italian apple industry association Assomela, government officials in Italy and diplomatic representatives at the Italian Embassy in New Delhi have now reached agreement with their Indian counterparts that allows its apple exports to the Asian country to continue.
The temporary protocol means that Italian exporters can gain entry if their goods are accompanied by a signed declaration, issued by phytosanitary authorities in the region of origin.
"A few dozen containers are leaving today (1 March) and many others will follow during the week," said a spokesperson for Assomela.
For Italy, the importance of India as a market for its apples has grown in recent years and its shipments to the country have increased considerably.
Increasingly important
While Covid changed the outcome of last season, 2018/19 saw the country sell more than 48,000 tonnes of apples worth a little under €41m to customers in India.
That growth contributed to Europe overtaking the US to become India's leading supplier of imported apples.
"In recent years, India has proven to be a strategic country for European apple sales, especially for some varieties and in years when there is a lot of product [to sell]," the group added.
"Considering that the prospects for a common European resolution are now, at least in the short term, very limited and that several interested countries seem not to have found their own way, the agreement found at national level becomes even more significant because, moreover, it denies room to competing exporting countries."
One of those rival suppliers is the US, which has effectively been shut out of India's apple market. It supplied more than one million cartons of apples to the country in 2019/20, although that figure has fallen sharply in recent months.
In the meantime, it is understood that government officials in Turkey, another key supplier of apples to the Indian market, have agreed with New Delhi to provide non-GMO certificates in advance of shipments to the country.
Belgian apple and pear exporters have also had to react quickly to the new rules. One operator with a long connection to the Indian market told Fruitnet that Belgium's own national plant protection organisation was now issuing certificates to accompany shipment to India.
This had been the case for "a few months now", the exporter added, in order to keep the flow of produce moving. "Plan B became plan A."