The Italian government has backed Melinda's unique plan to remove truck journeys between its Predaia packhouse and its mountain storage centre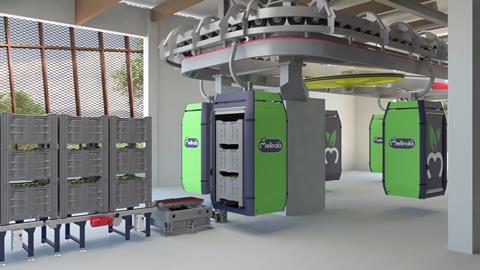 A unique logistical system designed to transport pallets of fruit using cable cars in Italy's Dolomites has been given the green light.
The first of its kind anywhere in the world, the project has been designed specifically to transport apples sold by leading Italian brand Melinda from its Predaia packhouse in Trentino's Non Valley to a storage centre housed inside a nearby mountain.
The cable-car project was announced last week at a special meeting in Rome, in the presence of Francesco Lollobrigida, Italy's Minister of Agriculture, Food Sovereignty and Forestry.
Its ingenuity placed it second out of more than 100 different proposal applications for funding as part of Italy's recently launched 'recovery and resilience' plan.
As a result, 40 per cent of the project cost – equal to more than €4m – will be covered by the government scheme.
"The apple cable car project is a virtuous example of how PNRR funds should be invested," comments Lollobrigida.
"It guarantees an organisational advantage, responds to the needs of a complex mountain area, [and] demonstrates the importance of intelligent and far-sighted investments in the agricultural sector."
He continues: "And, what is obviously not secondary, it ensures environmental benefits that are not at all negligible. Our applause can only go to the creators of the project and to all of Melinda. We are certain that this initiative will be a stimulus for the entire Italian system."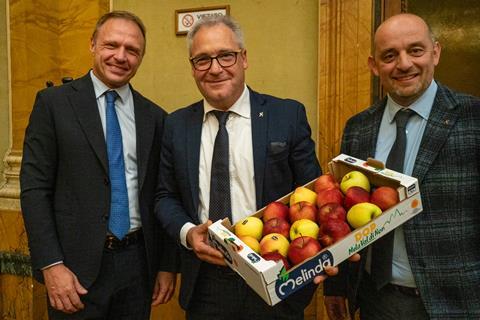 Green gains
The potential impact on Melinda's environmental sustainability is clear. By 2024, the fully automated solution should enable Melinda to transport 40,000 tonnes of fruit each year.
This should save around 6,000 truck journeys, or 12,000km of road transportation, and reduce its CO2 emissions significantly as a result.
"This result is an extraordinary recognition for all our consortium members," says Ernesto Seppi, president of Melinda. "An award for the planning that we have been able to implement and which will contribute to the efforts in favour of sustainability that have been underway for some time now."
Seppi adds: "Our goal and mission is to offer high-quality agricultural products while reducing, step by step, their ecological footprint. In general, fruit and vegetables are a product with low margins, [so] these efforts to rationalise logistics could have a positive impact on the economic sustainability of the supply chain."
Each cabin on the 1,300m cableway will carry three stackable bins of apples 87 metres up into Melinda's unique storage centre, which occupies space in a disused area of the Rio Maggiore mine, deep inside the Dolomites.
The system can reportedly transport 460 containers, or 150 tonnes of apples, per hour at a speed of 5 metres per second.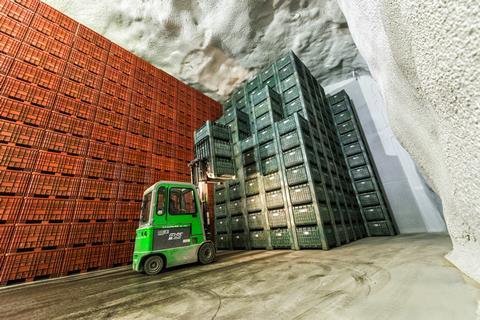 Trucks away
At present, the transfer of harvested apples into storage during the autumn requires ten trucks to make a total of 80 trips per day, each carrying 36 bins.
Then, over the following nine months, 15 trips per day are needed to retrieve fruit that has been sold.
With plans already in place to expand the storage capacity inside the mountain to 40,000 tonnes, those journeys are expected to increase by 30 per cent, which makes the cable-car project so important.
It also has significant implications for tourism, says Seppi. "In this way, we want to be able to transform an industrial innovation into a tool that adds value to the region. Soon, we will be able to tell tourists the story behind each of our apples and the innovation efforts to make this activity increasingly sustainable."