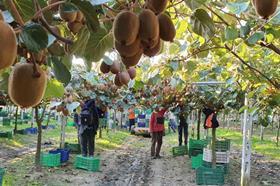 Fresh produce grower Jupiter Group has announced the start of kiwifruit harvesting at its Hayward orchards in Greece.
According to the company, Greece's fertile soils and location make the country ideal for cultivating top-quality kiwifruit.
"Once the fruit on farm has been audited to ensure the appropriate maturity levels, highly skilled pickers work intensely over the following few weeks harvesting by hand to safeguard the quality of the crop," the company stated.
The company revealed that the quality looked good despite the extreme weather conditions of the past year. "The intense heat and cold temperatures can impact on the vine during this time, however Jupiter's crop has developed well, and the quality of the fruit remains unaffected," it said.
In addition to the Asian and Middle Eastern markets, Jupiter revealed plans to follow up its export success to the US last year, supplying both loose and packaged fruit.
"We're looking forward to continuing to export to the long-haul markets,' said Jupiter CEO Mark Tweddle, 'including the Far East until at least the end of February, as well as opening up new markets, expanding further into the Middle East and supporting our customers with fantastic quality kiwi throughout the season."
Although rising packaging, production and logistical costs continue to pose a challenge, the company has been working to reduce the impact where possible, such as by packing the finished product at source. "This way we are removing the 'packing on' cost at the receiver's end, which is normally higher," said Tweddle.