Stocks of Kanzi apples from the Southern Hemisphere were quickly exhausted thanks to dynamic demand over the summer, providing the ideal starting point for the new European season
The Kanzi apple's main European production areas managed to avoid the worst of Europe's harsh weather conditions in recent months, boding well for the quality of the new European harvest.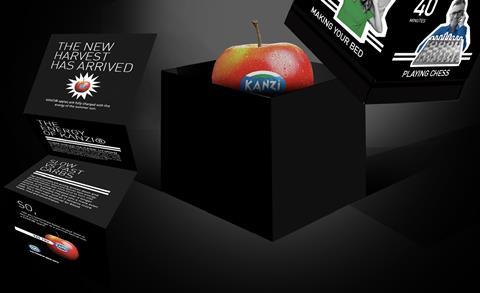 "As a consequence the quality and taste of the new Kanzi European harvest will meet the high expectations that customers and consumers have of a premium apple like Kanzi," announced EFC, which owns the exclusive global license rights of the brand.
With the European marketing campaign kicking off in the first week of October, the brand plans to build on its tagline, 'The Power of Great Taste', by stressing the energy boost you can get from Kanzi.
"See what you can do with the energy of one Kanzi apple," goes the message this campaign, a concept based on the idea that Kanzi apples are "natural collectors of solar energy" and that newly harvested Kanzi apples are "fully charged with the energy of the summer sun".
"Kanzi valorises the product by underlining that Kanzi apples are a natural source of energy and a smart alternative to artificial and processed snacks," EFC stated. "With their tasteful mix of sweet, tanginess, juice and crunchy bite, Kanzi apples are instantly refreshing and give you an energetic feeling. Just the right kick to get you going."
Promotions are set to focus on major cities in Germany, Italy and the Netherlands, with influencer marketing and an "energising social media campaign" in all key European countries.
"Country-specific marketing campaigns will further build brand awareness in most European countries," said head of marketing Jan Willem Verloop. "The marketing teams of the European Kanzi grower cooperatives have included radio, TV, event sponsoring, PR, online and retail communications in their marketing mix, to create in each market a truly 360-degree campaign with local relevance.
"With this proven successful mix of a pan-European campaign and country-specific targeted marketing activities, Kanzi will further establish itself as the world's second largest apple brand."