First volumes of KiKoKa-branded yellow-fleshed kiwifruit from the Yellow Kiwi Project will be on sale in Europe from this autumn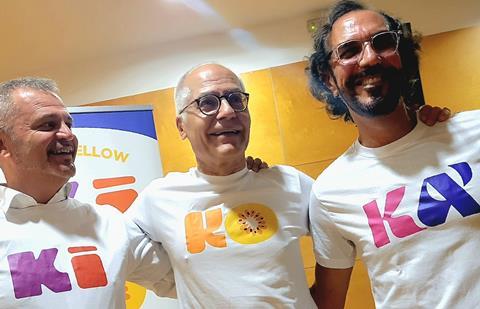 From the country that brought us such iconic designs as Ferrari, Gucci and Martini comes a new contender looking to make its mark in the fast-growing yellow kiwifruit segment. KiKoKa, the new brand name of Rivoira Group's Yellow Kiwi Project, was unveiled at a crowded press conference at this year's Fruit Attraction trade fair in Madrid, where project manager Gerhard Dichgans outlined the company's ambition to create a global brand guaranteeing a year-round supply of premium, sweet-tasting kiwifruit with high resilience to PSA and Moria.
The Yellow Kiwi Project began in 2008 with the planting of 16,000 seedlings bred by the University of Udine and evaluated and selected by nursery New Kiwi Plant (NKP). Last year, Rivoira signed a worldwide license with NKP to grow and market the first two varieties to emerge from the programme, AC497 076 and AC501 022.
"The two varieties have different characteristics: '022' is harvested in mid-October and has a good shelf-life, while '076' is harvested as early as mid/late September and has superior sweetness and dry matter characteristics," Dichgans explained.
"But a key point is that in seven years of testing they have both shown a strong resilience towards PSA/bacteriosis and Moria, the two biggest problems facing producers in Europe and around the world today."
KiKoKa is Rivoira's second attempt to carve out a premium branded segment in an established fruit category. Much like Sambòa, its recently-launched extra-sweet apple brand, Rivoira's hope is that it will appeal to growers and consumers alike by offering premium quality combined with a strong agronomic performance and an eye-catching, memorable design.
The KiKoKa branding was the brainchild of Robilant, the Milan-based agency that is also behind Sambòa. Explaining the concept behind the label, creative director Angelo Ferrara said the company wanted it to reflect an element of fun and vitality and stick in consumers' minds. "This name is joyful and playful, and it deviates from the crowd of many descriptive names ­­– it is a bit provocative but certainly easy to remember," he explained.
European growers have been slow to respond to growing worldwide demand for yellow-fleshed kiwifruit – it accounts for just 15 per cent of total European production compared to 55 per cent in New Zealand. The double whammy of disease and bad weather have also put the brakes on its development in Italy, where PSA, Moria and frosts have kept production growth in check over the past five years. Nevertheless, as the biggest import region for kiwifruit, taking some 600,000 tonnes each year, Europe is the key to the development of the worldwide kiwifruit business.
"The great strength of our proposal," said Marco Rivoira, CEO of Rivoira, "is to have two varieties with superior quality and shelf-life, being able to easily cover a commercial sales window up to mid-May, as evidenced by the first batches of fruit harvested in October 2022 and processed and marketed in April 2023."
According to Rivoira, commercial development of the two new varieties is in full swing, with 140ha planted in 2022 and 220ha in 2023, to which another 200ha are planned for 2024. This shows the great confidence of our partners in the project."
To date, 1,500ha have been licensed in Europe to 12 companies and a first commercial crop of 450 tonnes will be harvested this autumn and sold under the KiKoKa brand. The next step will be to create a European Consortium, a single marketing desked overseeing sales of KiKoKa-branded kiwifruit in which the shareholding of each grower partners will be proportionate to the number of licensed hectares it has, for the 2024 season. Rivoira said it is also looking to build a worldwide network of growers in the main producing countries.
According to Dichgans, six other selections from the Yellow Kiwi Project are currently undergoing evaluation, including an orange-fleshed variety with a mango taste that is due to be patented by the end of the year.
The 12 Companies participating in the Yellow Kiwi Project are: Italy's Apo Scaligera, Clementi, Kiwi Uno, Peviani Armonia PO and Zeoli Fruit; Zeus Kiwi and Arta Gold in Greece; Innatis and Savajols from France and Spain's Surexport and Agrihold.