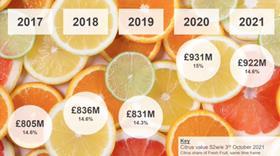 The citrus business needs to move away from broad marketing terms like 'easy peeler' and turn consumers' attention instead to the quality of individual varieties, as well as the fruit's health-enhancing properties.
That was a view shared by a number of speakers at the Global Citrus Congress 2021, during the first part of the two-day event's online programme on 16 November.
Paul Chuter of Green Star Produce said he believed the term 'easy peeler' was "too generic". Instead, he said, variety names like Nadorcott or Orri should come to the fore in a similar way to Braeburn and Gala in the apple category. "Let's get the varieties in bright lights!" he commented.
Mark Player, managing director of AM Fresh UK, agreed that new commercial opportunities could lie in a greater focus on varieties.
"We're very excited that we can replace traditional easy-peeler varieties with significantly upgraded new varieties, for example better sweet mandarins around the UK's crucial Christmas window," he said.
George Hall, executive member of the South Africa Citrus Growers Association, said marketing efforts ought also to give health and nutritional more prominence. "We need to do more promotions and education on the benefits of Vitamin C," he observed.
Post-pandemic boost
Earlier in the day, Joe Shaw Roberts of Kantar Worldpanel confirmed there were "some encouraging signs for the long-term" in the UK citrus market, mainly because consumers have become more aware of the category's health benefits.
But although citrus sales in the UK remained higher than before the pandemic at around £922m for 2021, Shaw Roberts said there was still plenty of room for the market to grow.
To emphasise this point, he noted that 37 per cent of the combined shopper base for fresh oranges and fresh orange juice did not in fact buy the former. "What can we do to get these shoppers to engage more with fresh?" he asked. "There's a natural crossover there."
For other parts of the citrus category, the UK continues to offer new chances to grow sales. For example, Global Citrus Congress attendees heard that sales of Spanish lemons had increased in the past few years.
Industry expert Paco Borrás said he believed a resurgence in sales of gin and tonic, as well as the influence of television cookery programmes like MasterChef, had contributed to the rise in demand.