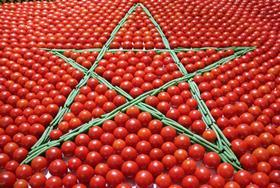 Morocco's reliance on the EU for sales of its early vegetables has fallen in the past year, as markets including Russia and the Middle East import more from the North African country.
Last campaign, 89 per cent of Morocco's early vegetables were sent to the EU; this campaign, that figure has fallen to 85 per cent, according to Le 360, as Morocco continues to reduce its dependence on the market.
Les Echos reported that the Russian market imported a share of 13 per cent of Morocco's early vegetables in the 2015/16 campaign, compared with 9 per cent in the previous season. Meanwhile, the percentage taken by Middle East markets has risen from 0.5 per cent to 1.3 per cent.
Overall, Morocco's early vegetable exports stood at 902,000 tonnes between September 2015 and mid-May 2016, compared with 758,000 tonnes and 790,000 tonnes in the 2014/15 and 2013/14 campaigns.
Europe is the primary recipient, importing 764,000 tonnes during 2015/16, a drop from 2014/15's 777,800 tonnes. Next is Russia, with 115,300 tonnes, a significant increase on the previous campaign's 65,000 tonnes. Around 12,000 tonnes was shipped to the Gulf.
Tomatoes reportedly account for 56 per cent of Morocco's vegetable exports, followed by beans, peppers, chilis, courgettes, potatoes and cucumbers.
As for fruit, exports rose from 100,070 tonnes to 111,100 tonnes over the same period, the main items being watermelons, berries, melons, avocados and pomegranates.