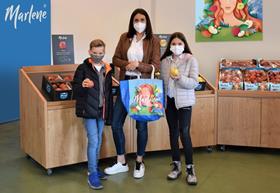 Italian apple marketing consortium Vog has marked the 25th anniversary of its flagship brand Marlene with a new look that it says will brighten the lives of consumers across Europe.
Launched earlier in the year, the image of what Vog refers to as the 'Marlene nymph' has been printed on more than 150,000 shopping bags, which will be given to shoppers wherever the branded apples are sold.
Created by Italian artist Francesca Cito, the design was selected as the winning artwork among 6,000 submission from 36 countries, all of which entered an international art competition to celebrate Marlene's silver jubilee.
Surrounded by apple orchards and with a radiant, dreamy face, the image has come to represent the Marlene world, and the Alpine landscape where its apples are grown.
"The beautiful work that won our art competition turned the shopping bag into a desirable item," says Hannes Tauber, marketing manager at Vog. "As well as being a useful and sustainable gift, this shopping bag is also chic and elegant, ideal for Marlene consumers' daily shopping trips."
The consortium began distributing the bags in shops run by its own member cooperatives in South Tyrol, as a free gift for those who bought Marlene apples on Mother's Day.
"We also organised opportunities to distribute it and reach our distributors all over Europe," Tauber adds.

A year of celebrations is due to run until July 2021. During that time, the illustration itself features prominently on Marlene's stickers, packs and promotional materials, bringing a burst of colour and beauty to points of sale.
In April and May, the brightly coloured bags were sent to several wholesale and supermarket customers across Italy, to wholesalers in Spain and Benelux, and markets and retail shops in Jordan.
In Malta, the marketing promotion has focused on greengrocers and supermarkets.

"This is a small gift that our customers can give to consumers," Tauber concludes. "It is one of the many promotional activities that we are conducting to mark Marlene's 25th anniversary.
"The goal is to bring art closer to people, into their daily lives to kindle the spark of creativity and taste. Marlene is not just any apple, but the daughter of the Alps, and its flavour can transport consumers' imagination to the mountains, where it grows firm and succulent."