The Daughter of the Alps has renewed its support for a number of winter sports events, and continues to focus its efforts on campaigns in Italy, Sweden and Norway
While South Tyrol's apple orchards enjoy a welcome rest, one of its leading brands, Marlene, continues to engage with consumers via a series of international marketing initiatives and sponsorships, each designed to highlight its close relationship with sport and the mountains.
In December, the label teamed up with retailer Coop Norge to sponsor the FIS Cross-Country Skiing World Cup in Lillehammer and Beitostølen.
It has also arranged to be visible at the Audi Ski FIS World Cup – on the bibs of competitors, on the starting blocks and at the finish line – until 11 March.
Back in its home region, the brand supports local, young athletes and ski champions of tomorrow with the Marlene Cup, a championship based on 12 international meetings for under-18s and under-21s, organised by the Italian Winter Sports Federation Südtirol.
And the self-styled 'Daughter of the Alps' has renewed its partnership with biathlon champion and South Tyrolean native Dorothea Wierer for the 2022/2023 season.
Wierer will display the light blue logo on her rifle during every competition, a position expected to give the brand even greater visibility among international audiences.
"Once again this year we will be able to reach out to lots of winter sports fans all over the world through sponsorships that promote Marlene and its principles," remarks Hannes Tauber, head of marketing at brand owner Vog.
"The mountains, active lifestyles and wellbeing are important values for the brand and the winter season is one of the best moments for supporting and promoting them".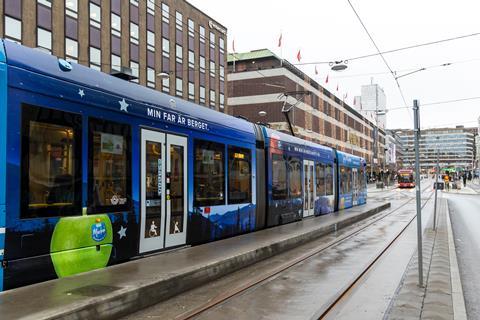 European tour
Elsewhere, Marlene's marketing activities continue across Europe. Following a successful autumn campaign that involved ten different countries and out-of-home initiatives in Rome, Milan, Seville, Barcelona and Malta, the brand has continued with efforts to brighten up public transport systems in European cities.
In December, trams in Oslo and Stockholm were transformed into open-air art galleries, painted in their entirety with new works by artists who won Marlene's recent 25th anniversary art contest.
The campaign also included appearances in leading Swedish and Norwegian daily newspapers – in print and online – to increase brand awareness.
"Marlene is an increasingly international brand," Tauber explains. "With the out-of-home campaigns on trams, we bring the Daughter of the Alps apple and its seasons into the lives of millions of consumers all over Europe, reminding them that with the Marlene brand they can enjoy quality apples from South Tyrol all year round".
The label's partnership with South Tyrolean chef Norbert Niederkofler also continues during the winter season, with new initiatives due to be announced in the coming weeks.