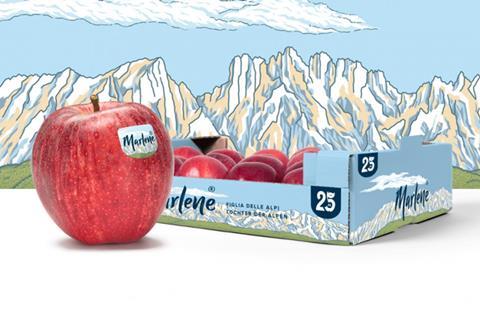 Italian apple brand Marlene is preparing to mark 25 years in business with a celebration of artistic creativity.
The marketer has called on people to create and submit a work of art that might eventually adorn its fruit stickers and feature in advertising materials during its anniversary year.
"What does Marlene mean to you?" the company has asked potential participants. "Create your very own artwork. Let your imagination run wild with a painting, a photo… Surprise us!"
The winner and 24 other entrants will each receive a voucher to stay in a farmhouse in South Tyrol, the north-east Italian region where Marlene apples are grown.
"South Tyrol is a genuine 'apple paradise' that enjoys over 300 days and 2,000 hours of sunshine a year," the company continued. "It is to this wonderful climate that Marlene apples owe their incredible flavour."
The contest opened on 15 September and the deadline for entries is 15 November, with the winner due to be announced on 15 December.