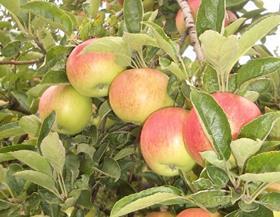 Prognosfruit's 2021 European apple and pear crop forecast was released by the World Apple and Pear Association (WAPA) on 5 August. The forecast revealed that apple production is set to increase by 10 per cent, while the upcoming pear crop is expected to decrease by 28 per cent.
More than 150 international representatives from the apple and pear sector joined the Prognosfruit 2021 Online Conference, the second virtual edition of the event in its 46 years, to discuss the 2021 production forecast.
"Apple production in the EU for the 21 top producing countries is estimated for the 2021/22 season to be 11.735m tonnes,' said WAPA's Philippe Binard. 'Overall, this year's crop is estimated to be 10 per cent higher than last year, but up only 1 per cent on the three-year average. It is therefore perceived to be a season with a balanced outlook."
Polish numbers soar
By country, leading producer Poland is expecting a 22 per cent increase in volumes year-on-year, up to 4.17m tonnes. Italy is set for a slight fall of 4 per cent to to 2.046m tonnes.
France and Germany are both expecting an increase in the size of their apple crops, up 3 per cent and 6 per cent respectively to 1.375m tonnes and 1.08m tonnes.
Both Golden Delicious and Gala varieties are forecast to increase by 8 per cent this year, to 2.12m tonnes and 1.563m tonnes.
"The new season is due to start in general one week later than average,' noted Dominik Wozniak, president of WAPA. 'Size across Europe is catching up to be more on the average size for this season compared to the average.
'The market outlook is promising to be balanced between opportunities on the domestic market, with development on strategic export markets as well as volume for processing estimated to be about 4m tonnes, balancing supply between the fresh and
processed markets,' Wozniak continued. 'Organic production continues to grow slowly each year reaching now around 6 per cent of the total EU crop".
Pear volumes slide
'While the EU apple crop is larger, the EU pear crop for 2021/22 is estimated to decrease by 28 per cent compared to last year to 1.604m tonnes and by 27 per cent compared to the three-year average,' Binard confirmed. 'This is the smallest decade crop for pears."
Italy, the largest pear producer in 2020, is expecting a huge drop in production of 65 per cent this season, down from 611,000 tonnes to just 213,000 tonnes.
The Netherlands and Belgium take the top two positions in terms of volume, although they too are forecasting drops in production of 19 per cent (to 325,000 tonnes) and 25 per cent (to 295,000 tonnes) respectively.
By variety, this translates to a decrease of Conference by 18 per cent to 805,000 tonnes and Abate by 73 per cent to 66,000 tonnes.
"The apple and pear sector should not wait and watch the market, so that the season can take all the full potential of weeks ahead for the marketing of the new crop,' said Luc Vanoideek of Copa Cogeca. 'Addressing production challenges, permanently improving quality, coping with the Farm to Fork requirements, and looking at export opportunities are key for a successful season.'