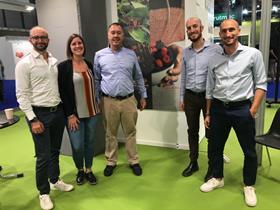 Italian group Molari Berries & Breeding has agreed a landmark deal with plant variety management specialist Ekland Marketing Company of California (Emco Cal) to develop supply of premium-quality proprietary blackberry varieties in the European market.
The agreement gives Molari the green light to propagate seven different varieties managed by Emco Cal from the University of Arkansas' world-renowned berry breeding programme.
The Italian group is also now licensed to sell the resulting plants across a number of European and north African markets.
Brothers and managing partners Matteo and Luca Molari said they had been impressed with the varieties' performance during recent trials, and now welcomed the chance to extend their portfolio beyond raspberries, blueberries and a number of other soft fruits.
"For us it's a big step, because in the European market we have always been known for our raspberry genetics," Luca Molari told Fruitnet. "But since Matteo and I joined the company, our first goal was to increase the quality not just of the plants but also the genetics we could offer in blackberries too."
According to Matteo Molari, the success of any attempt to capitalise on growing consumer demand for blackberries rests on having the right kind of top-quality varieties.
"From a commercial point of view, our main goal is to raise the bar in terms of quality and to bring the best material possible to the market," he commented. "We really believe that today the consumer needs to have something new and something that is recognised on the market for quality."
New growth in the berry category
To underline its commitment to achieving that goal, Molari plans to treble its breeding capacity. That entails investment in a new laboratory, where it will undertake the necessary micro-propagation of tissue cultures to produce the plants.
Jose Jon Garcia, commercial manager for Europe and Africa at Emco Cal, said the time had now come to ramp up commercial volumes of the next generation of blackberries in Europe.
With the help of two other partners in Spain and France, Molari has the opportunity to develop blackberry production across the European continent, as well as in Morocco.
"Molari has a very good, existing network of customers, which we are hoping they will be able to take advantage of, and extend the varieties to those countries and beyond," Garcia added.
"We are very excited that we've got to this point. We believe it's in everybody's interest that commercial nurseries now take the direction of direct sales with the growers."
Molari's technical manager Alessandro Gualandi emphasised the product's potential in a category already on an upward trajectory.
"We see that blackberries are probably the product with the most potential for growth in the berry category," he said. "There is still not a big consumption of blackberries, but we believe that this is mainly due to the fact that not many blackberry varieties are tasty enough for the consumers."
The important change needed, he continued, was better varieties. "We see big differences between bad and good blackberries, and we strongly believe that with these good genetics, we can help the market to enhance their production and consumption."