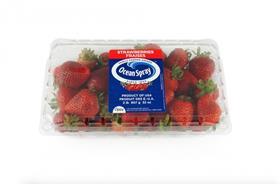 Oppy's Ocean Spray-branded strawberries are set to bring the 90-year-old brand to the shelves, with fruit fresh from California.
The fresh produce grower-distributor said that it is offering a multifaceted strawberry programme that ensures a continued supply from various regions, all while maintaining quality and taste.
Strawberries from Oxnard are beginning to ramp up production and are peaking now, as is production from Watsonville and Salinas, with volumes decreasing by the end of the month.
Meanwhile, strawberries from Mexico are all but done, with Baja strawberries continuing until the second week of May.
The group added that production from East Santa Maria will similarly increase by May, which will transition to peak production from West Santa Maria in June and July.
In terms of organics, Oppy's strawberry programme has begun in Lompoc, with volumes increasing steadily through April, before peaking in mid-May, with conventional strawberries starting from mid-July.
"Oppy's Ocean Spray strawberries offer consumers convenient pack sizes as well as a brand that they know, trust and value," said Oppy's vice-president of categories of berries and greenhouse, Jason Fung. "Thanks to our mutual top-quality standards, the quality and flavour profile of Ocean Spray strawberries remain unmatched, meaning they offer consumers the perfect opportunity for a little indulgence.'
Parents are doing more now than ever for their families, balancing home schooling and new routines alongside their jobs, while still trying to provide them with healthy choices, Fung noted.
"Strawberries are a traditional part of spring celebrations honouring our parents, offering some much-needed normality, and parents this year have certainly earned some special recognition,' he added. 'The fact that strawberries are also rich in vitamin C makes the two-pound Ocean Spray pack a great call for family dishes, desserts and healthy snacking.'
"It's an exciting time of year for our fresh programme," said Chris O'Connor, vice-president of marketing at Ocean Spray. "Within the next few weeks, we will have Ocean Spray strawberries, blueberries, blackberries, raspberries, citrus and grapes available for our customers to enjoy, meeting their needs with a familiar, trusted brand proposition in the produce section.'