The pears, the first Spanish fruit to be awarded PDO status, will celebrate in style at next month's Fruit Attraction
The Protected Designation of Origin (PDO) Rincón de Soto for Blanquilla and Conference pears grown in La Rioja, Spain, celebrates its 20th anniversary this year.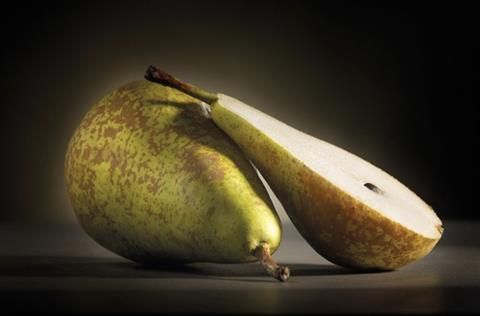 The pears, the first fruit in Spain to be granted PDO status, have been cultivated on the lower terraces of the Ebro, Cidacos, Alhama, Iregua and Leza rivers for more than four centuries. They are chararcterised by their sweetness, larger and longer shape and more intense green skin colour.
"The constitution of the PDO was the beginning of a solid alliance between farmers, cooperatives and companies. It has been a path of effort, entrepreneurship and learning that has brought stability and confidence," said Eduardo Pérez, president of the Regulatory council of Rincón de Soto PDO Pears.
Today, the PDO brings together 280 farmers from 28 municipalities of Rioja Alta, Rioja Media and Rioja Baja, who between them cover an area of 1,263ha. Around 20,000-25,000 tonnes of pears are marketed under the label each year.
Known for their sustainability, the pears are grown using natural techniques of Integrated Production, respectful of the health of consumers and the planet.
"Farmers are our pillar. They cultivate with care. Our agriculture has enormous social value: it generates an economy, settles the population in our towns, protects the environment and favours the healthy diet of thousands of people," said Pérez.
The PDO will mark the anniversary with a celebratory dinner held during next month's Fruit Attraction trade fair in Madrid.