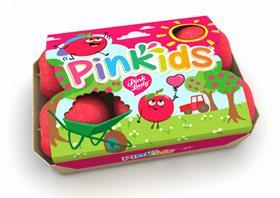 Pink Lady Europe has announced its intention to showcase the group's novelties at next week's Fruit Attraction exhibition in Madrid.
Although the first Pink Lady apples of the season won't be harvested until late October, the marketer sees the event as a valuable chance to connect with its partners and customers.
'This is a great opportunity for the brand to strengthen its global commercial relationships and to share its values and commitments,' the company stated. 'It's also a chance to present the brand's latest accomplishments.'
These include new 100-per-cent cardboard packaging as part of the Pink Lady's zero-plastic commitment, its new design and partnership for PinKids and the Fruteros programme for Spanish retailers.
In addition to Pink Lady and PinKids, the group's stand at Fruit Attraction will also feature Joya apples which, according to Pink Lady Europe, are 'taking off thanks to various planting programmes in Italy and Spain, with a potential 20,000 tonnes targeted for 2025'.
Pink Lady's 72m2, fully cardboard stand will apparently feature 'a premium ambiance imbued with the brand's prized naturalness'.
Visitors will get to try Pink Lady popsicles, a new creation from Catalan pastry chef Christian Escribà.
'Chef Escribà knows how to create special moments, and it is a pleasure for Pink Lady to be able to work with him again for this new season,' Pink Lady Europe stated.