Expansion of Huelva trial with Berrynest and development of production in Morocco with Agrovision marks start of exciting chapter for new berry brand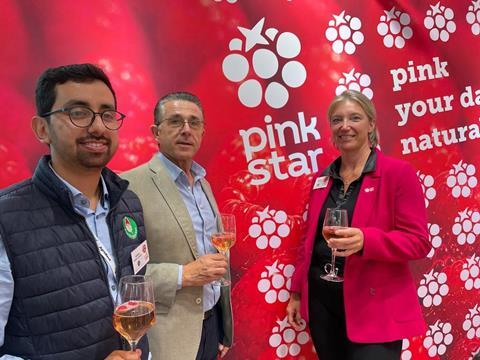 The companies behind a new raspberry brand called Pink Star say they want to offer the international market premium varieties grown across Europe that deliver consistently great taste and excellent yields all year round.
"Pink Star will definitely reinforce our leading position in the organic berry market," says Thomas Cera, COO of Spanish grower and distributor Berrynest.
Organic specialist Berrynest was at Fruit Attraction 2023 in Madrid to help unveil the new label, which belongs to Earth Market, the varietal licensing, distribution and marketing arm of French breeder Marionnet Label.
Production of the raspberries is currently limited to Huelva in southern Spain, where Berrynest has already planted 100ha and plans a further 40ha in autumn 2023. Soon, it says, Pink Star will account for 50 per cent of its organic raspberry production.
But Earth Market has also secured a partnership agreement with international berry producer Agrovision, a deal which gives the US-based multinational extensive European rights to grow and market Pink Star's two varieties, starting in Morocco.
As a result, Pink Star raspberries should soon be grown and sold for 52 weeks of the year.
The varieties, which are known as Pandora and Gaïa, were bred and selected from primocane plants by Marionnet Label. For more than six years now, Berrynest's Spanish growers have planted and evaluated the selections with the French company's help.
The results have been highly encouraging, according to Earth Market. It says the raspberries offer "unparalleled flexibility" in production, with "excellent results" in terms of average fruit size and yield per plant.
It also notes that they are tailor-made for efficient crop management, and are well suited to production targets and commercial windows.
For consumers, meanwhile, their taste is described as "delightful and consistent, making every bite a pleasure". Indeed, Pink Star has already won a prestigious two-star award at the International Taste Institute awards, which were held last May in Brussels.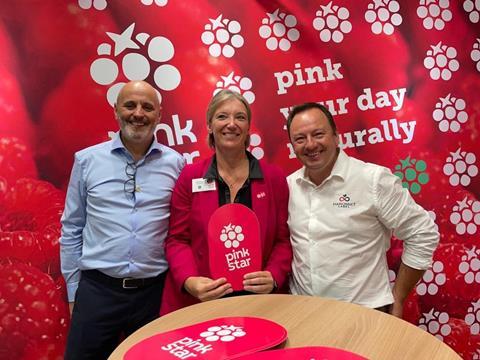 Commercial expansion
Bionest continues to look for new partners in other European countries who can expand Pink Star production.
For Agrovision, meanwhile, the project is seen as a golden opportunity for its conventionally grown supply. "It's really exciting, and a genuine privilege for Agrovision to be partnering with such acclaimed breeders as Marionnet and their colleagues at Earth Market," says Steve McVickers, the group's chief commercial officer.
Agrovision has long targeted what is a highly competitive raspberry market. Commercial trials of Pink Star at Agrovision's newly constructed Morocco farms have already delivered "really encouraging" results, both in terms of quality and continuity of supply.
"Planting is now underway in Morocco in both primocane and longcane formats, ready for harvesting from November 2023 to May 2024," McVickers adds.
Willian Muñoz Cadena, head of business development at Earth Market, believes Agrovision's broad network has enabled it to develop a highly sophisticated production plan.
"The knowledge we gain through this commitment has allowed us to develop tailored technological growing approaches and solutions for our growing partners," he notes.
"Agrovision is a fully integrated berry supplier, and the fastest-growing global grower. Equipped to produce all year round, it has built a highly skilled and experienced team, ensuring Earth Market can approach this venture as a genuine and powerful partnership."
He concludes: "Working closely together with fully aligned objectives, we look forward to realising the immense potential of Marionnet's genetics throughout Pink Star varieties."
New concepts in retail store design, the latest advances in vertical farming, new investment in sustainable packaging, and the development of alternative markets are among the central themes of this year's Global Berry Congress.
Click here to register for Global Berry Congress 2023
The world's leading event for the berry industry returns to the WTC-Beurs in Rotterdam on 28 November with another top-level lineup of expert speakers and highly relevant topics.
The agenda covers the latest trends and challenges that will shape the fresh berry category in the next 12 months, as well as game-changing innovations that will help the business to grow. Click here for more information.