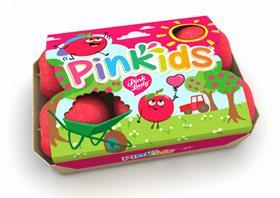 PinKids, the little sister brand of Pink Lady apples, has enjoyed its best season since its creation, according to Pink Lady Europe, with 6,400 tonnes sold.
Now, after ten years, the brand is set for a redesign aimed at its target audience: children.
PinKids forms part of Pink Lady Europe's anti-waste approach. The only difference between PinKids and Pink Lady apples in terms of their quality specifications is the former's smaller size, making it ideal for the smaller hands and mouths of children.
"Ten years ago, with a view to optimising most of its production and reducing waste, Pink Lady Europe launched PinKids: the mini Pink Lady for children," the company stated. "The perfect solution to make children want to eat a natural and healthy product, in line with the Pink Lady specifications.'
Ten years later, PinKids accounts for 3 per cent of Pink Lady's European production, with 6,400tonnes sold in 17countries during the 2020/21 season, twice the previous season.
"Moreover, this season, PinKids is rethinking its identity and enhancing its appeal to young people thanks to a new dynamic, straightforward and fun design created by Wonderful and Pink Lady Europe," the company revealed.
Promotional activities are set to take place throughout the year, starting with Back to School at the end of August. Next season, PinKids will also sign a licence agreement, the company stated, flying the colours of the Minions for the 2021/22 season.
The UK and Ireland account for 40 per cent of volumes, followed by the Netherlands with 16 per cent. Spain and France, two producing countries, account for 11 and 9 per cent respectively.
Now available at 50retailers, PinKids continues to grow in line with the company's sustainable development commitments, the company said. With the aim of eliminating single-use plastic, trays for the apples are now made of 100 per cent FSC-certified cardboard and are 100 per cent recyclable.