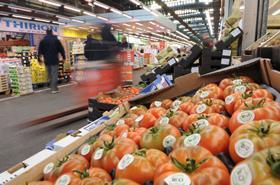 Following a two-year hiatus, the so-called 'primeurs' train, which is expected to transport 10 per cent of daily fruit and vegetable supplies between Perpignan in southern France and Paris's Rungis market, is back in business.
The train made its first trip for two years on 22 October, travelling from Perpignan to Rungis at an average speed of 140km per hour. The line is considered a boon for the food industry, as well as the economic development of the Ile de France and Occitanie regions.
Given its low-carbon credentials, a consultation is planned for the development of a combined transport terminal by 2024.
It is estimated that such a terminal would enable the share of rail in supplies to Rungis to rise to 20 per cent, taking nearly 60,000 trucks off the roads each year.
"I am delighted by the relaunch of the Perpignan-Rungis rail link," said Stéphane Layani, president of Rungis Market "It has been long-awaited by companies at the market. I must thank the Prime Minister and Minister of Transport, for their commitment, the Primever Company, without whom this line could not have been restarted, and the market wholesalers who are the real economic players in this field.
"Rail infrastructure will contribute to the development of the country's food sovereignty, by effectively connecting our production areas with the huge consumption region in Ile-de-France and beyond. This is the future model we are building to keep the country supplied with fresh produce."