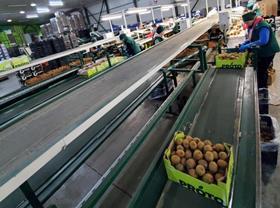 Greek exporter Proto is optimistic about the new kiwifruit season, according to export director George Kallitsis, with production volumes slightly up on last year. "We expect a good season," he said. "The quality looks good, and we are seeing an increase in Greek volumes as new growers come into production. Average sizes are slightly smaller than last season, at around 85-90g."
Harvesting typically commences at the end of October, giving the Chilean season time to conclude, even if volumes from New Zealand are expected until mid- to end of December.
"We are in no hurry to sell fruit," said Kallitsis. "This year growers are anticipating high prices, so buyers and packers are waiting to see what will happen. Quality is quite varied between different regions. In general, ours is good, better than in Italy from what I understand. The shape of the fruit looks good, perhaps with a slightly higher proportion of round fruit this year."
Greek kiwifruit volumes stand at around 280,000 tonnes. By 2024, Kallitsis predicted, they will rise to around 400,000 tonnes. To cope with such growth, Proto is currently installing a new kiwifruit sizer with almost triple the capacity, due to be ready toward the end of the season.
"This will improve the sorting process, better identifying skin defects and soft fruit," said Kallitsis, "and deal with the increasing volumes from Greece, including golden kiwifruit volumes."
Trials of Zespri gold are ongoing in Greece, with a decision on whether to continue with the commercial planting and packing of Sungold in Greece expected early next year. "Zespri is satisfied with the quality," revealed Kallitsis. "But they also need to see how the fruit fares during and after storage. And for the project to be successful, they need a large enough number of growers to plant, grow and pack Sungold in Greece. The hope is that Greece can cover the window starting at the end of February, when Italian golden kiwifruit stops holding up in storage."
According to Kallitsis, its first green kiwifruit exports of the season will go to China, Thailand, the US and Middle East markets like Saudi Arabia, Bahrain, Oman and Kuwait.
"We are also in discussions for South Korea," he said. "This is an emerging market for us. Since Covid-19, the protocol has actually got easier. Prior to the pandemic a phytosanitary official had to come to Greece for each shipment, but now they rely on video."
Kallitsis also identified Thailand, Indonesia, Malaysia, Hong Kong and India as promising markets to explore. "India is coming back to European fruit after three years sticking mainly to Iranian fruit," he said. "This year there are more problems importing Iranian fruit so they are looking at European kiwifruit again. One issue may be the price. In China, high European prices have given domestic supplies the advantage. Freight costs have increased to all destinations, while packing materials have gone up by 20-30 per cent. Electricity is also much more expensive, and kiwifruit requires coldstorage, so this is another factor that will affect the final price."