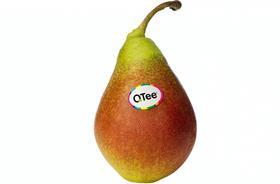 Belgian cooperative BelOrta has announced the expansion of its Earth range of products with the QTee pear, a relatively new variety first planted in 2015.
BelOrta's Earth range, launched at the start of the year, is for fruits and vegetables that are currently in transition to organic, and that includes QTee.
'In 2023, the transition period will be over,' said Sander De Proost, responsible for organic sales at BelOrta, 'and these QTee pears can be sold as organic.'
Due to its early harvest time, the QTee has the honour of opening up the new local pear season. According to BelOrta, the variety stands out thanks to its shape, red-blush colour, texture and taste, helping to diversify the offer for growers, traders and consumers.
'This pear variety could also provide a new window in the topfruit range on the organic market,' said De Proost. "In anticipation of the first organic QTee pears, we are already offering them under our Earth concept. In this way, the consumer already gets a taste of this future organic pear.'