Rabobank suggests that better-quality table grapes could attract consumers and "revitalise the category"
A new report released by Rabobank has highlighted the improvement in both quantity and quality of table grapes globally, which it has said will remain one of the world's main exported fruits.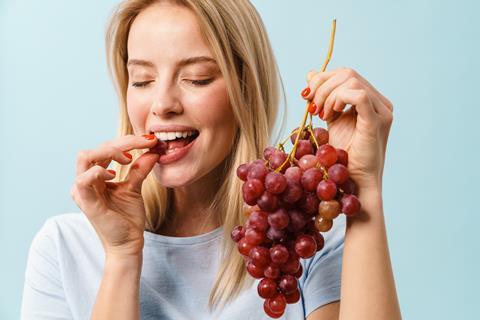 However, Rabobank also suggested that consumer expectations could collide with significant supply-side constraints, driving opportunities, challenges, and innovation in the industry.
Global table grape exports reached a record 4.3m tonnes in 2021/22, helped by the recovery in volumes from Chile and India, the constant growth of exports from Peru, and the rise of production in South Africa and Turkey.
However, despite the improving production conditions, Rabobank pointed out that labour and logistics challenges remained in the main producing countries, and longer times in most segments of the supply chain translated to persistent quality issues at destination markets.
The global view

Exports to China, which has the largest per capita consumption among the main destination markets, declined in 2021/22 due to logistics and production issues.
However, availability in China should keep growing, the group said, as increases in production were set to more than compensate for the decline in imports and rise in exports.
By contrast, per capita consumption in the EU is trending downward. Although imports from countries outside the EU increased at a CAGR of 4 per cent in the past ten seasons, domestic production had declined at a higher rate.
In the US, per capita consumption was expected to grow marginally, with domestic production and exports slightly declining while imports increased during the California off-season.
Slow recovery of logistics
"Logistics will remain an important constraint next season," said Gonzalo Salinas, senior analyst for fresh produce at Rabobank.
The reefer container imbalance would be a primary concern for Southern Hemisphere fresh fruit exports in the coming season, the report continued.
At the same time, extended transit times, port strikes in Europe and the US, as well as possible Covid outbreaks in China could affect the recovery of supply chains. In addition, ocean freight rates in 2022/23 were not expected to decline significantly.
For the last part of the supply chain, slow internal transport in Europe should also be expected next season.
Driver shortages had reached a critical point and were affecting Europe more than the US, the report said.
"However, good news can be expected for Chilean supply, as a new 'blueberry express' service to the US will start in November 2022, and lower transit times can be expected for the early part of the Chilean table grape season, helping better-quality fruit reach the US market," said Salinas.
Proprietary cultivars help sustain growth
Amid these challenges, protected varieties provided reasons for optimism, Rabobank said.
Already the norm in the US and UK, protected varieties were increasing their share of the Southern Hemisphere supply, it noted, representing more than 70 per cent of exports from South Africa and Peru and 60 per cent of exports from Chile.
Moreover, competition between providers of proprietary seedless varieties was expected to intensify as import volumes to the EU, the largest importer of table grapes, continued to increase.
And, in the last seven seasons, consumer preferences and the varieties sold to China's imported table grape market had shifted toward new seedless varieties, Rabobank outlined.
"As such, we can expect the Australian industry to follow Chile's and Peru's developments in producing proprietary varieties in the coming seasons, which will improve exports to the rest of the world and decrease reliance on the Chinese market."