The Belgian cooperative's strawberries are now packed in 100 per cent recycled PET punnets that are also 100 per cent recyclable
From 1 July, Tomabel strawberries from Belgian cooperative REO Veiling, are set to be offered in new strawberry punnets that meet the latest sustainability requirements.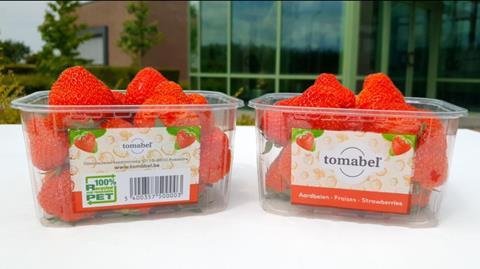 The strawberry punnets are made of 100 per cent recycled PET material and are also 100 per cent recyclable themselves.
"In addition, REO Veiling no longer uses the familiar plastic handle," the cooperative stated. "As a result, from now on not a single empty strawberry punnet needs to end up in landfill, because every packaging can be processed and reused as a raw material for new packaging."
The new strawberry punnets are transparent and feature full-colour printing along the front and back of the container.
The barcodes on the punnets can be scanned both on the side and on the bottom, making them more user-friendly for shop assistants, the cooperative said.