European retail value chains are still unsustainable, say suppliers, despite previous agreement on concept of fairness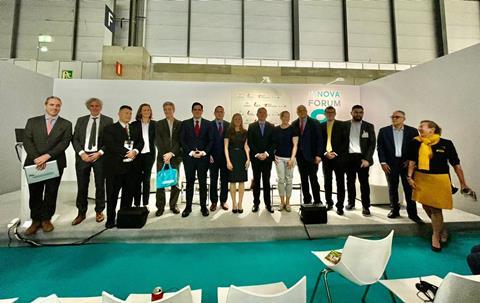 European retailers are under intense pressure to guarantee a fair and sustainable price for bananas, following a high-level meeting of political and commercial industry players at Fruit Attraction in Madrid.
Organised by the UN FAO-affiliated World Banana Forum, the LatAm Taskforce meeting brought together banana industry representatives, Latin American ambassadors and European retailers, as well as Andreas Schneider, a member of the European Commission's Agriculture and Rural Development cabinet.
While everyone present renewed their support for the notion of shared responsibility in global banana supply chains, the absence of a firm commitment from retailers on what suppliers and exporters see as a 'fair price' remains a major hurdle that has not yet been cleared.
As a result, many feel the future sustainability of the international banana business is not yet secure, because they argue that market prices are insufficient to fund innovation and improvements to living standards among producers.
"We have seen prominent European retailers make promising declarations following the introduction of the concept of shared responsibility earlier this year," said José Antonio Hidalgo, executive director of Ecuadorean banana export association AEBE.
"However, we believe it is time for the European retailer industry to act on it and translate these commitments into concrete steps so we can all progress further towards greater sustainability, not only for our producers, and for the local communities that depend on the banana sector, but also our European consumers."
Schneider told the meeting that the success of the EU's Farm to Fork Strategy, which aims to reduce the environmental and climate impact of primary production whilst ensuring fair economic returns for farmers, required help from others.
"Achieving high-quality, nutritious food to sustain food security is at the heart of the European's Farm to Fork strategy," he commented. "However, the sustainability of our food systems cannot be achieved by the European Union alone."
He added: "The European Union has every interest to work ever closer with Latin American countries on the Farm to Fork actions and foster a strong dialogue between all stakeholders. Together, we can achieve great rewards in areas like research and innovation."
A fair pricing model
The pricing strategy pioneered by Fairtrade International offered a model for closer collaboration, said Marike de Peña, former vice-chair of the group's international board.
"Proven methodologies, such as the Fairtrade methodology, already help enforce the fair price threshold," she explained. "The banana sector is strongly committed to tackling environmental, social, and economic challenges. But what we need, from the other side of the table, is a strong sign of commitment that there will be an agreement – and the enforcement – for a strong fair price policy across the board."
Sustainability in banana supply chains cannot be funded by producers and exporters alone, suggested Victor Prada, secretary of the World Banana Forum.
"The European retail industry has many tools at its disposal to make sustainability possible – through certification schemes for instance and fair banana purchasing conditions," he said. "It is everyone's responsibility to abide by the new corporate responsibility guidelines to make the banana industry a more sustainable and ethical sector."
Julio Merida, executive director of Guatemalan producer association APIB, added: "Shared responsibility must become the cornerstone of a sustainable and viable banana value chain in the 21st century and beyond. Ever-increasing demands and regulations have placed all the burdens squarely on the shoulders of producers and put a stranglehold on innovation and growth. As we stand at crossroads, we need to seize the opportunity to reconcile the necessary compromise to dignify the work of millions of women and men around Latin America and make the banana sector a growing and sustainable industry."
Emerson Aguirre, executive President of Colombian association Augura, echoed those sentiments. "Today is a very important day for us because we are all - workers, producers, trade unions, professional associations - gathered here to fight for a fair price for our products. We want to take responsibility to comply with the EU's Farm to Fork strategy, but this opens up a new set of economic and environmental challenges."
He added: "At the same time, we are faced with rising costs due to the Ukrainian conflict. We need to find a compromise with the EU to achieve the new sustainability standards. The fair price must cater for all these challenges."