Vegetable seed company highlights the importance of shared entrepreneurship in cucumber breeding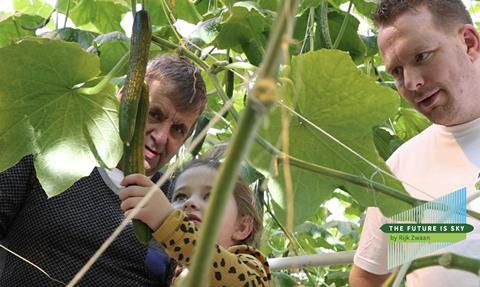 Rijk Zwaan has highlighted the importance of partnerships in cucumber innovation and the development of new varieties in the first video of its new 'The future is sky' series.
The vegetable seed company, which has been active in cucumbers since 1937, said the campaign was aimed at high-tech growers.
"Rijk Zwaan has been active in the cucumber market for many decades, in both traditional and high-tech cultivation," the group stated.
"Production in low greenhouses gradually evolved as new cultivation techniques disrupted cucumber cultivation methods. Thanks to a mindset of shared entrepreneurship, Rijk Zwaan was able to respond to these rapid developments in line with the company's ambition to be the preferred breeding partner in all cucumber segments.
"To realise this ambition, the breeding department and the rest of the company have always strongly believed that it is essential to stay in close contact with growers," it continued.
Wide cucumber portfolio
This ambition was also visible in the company's high-wire portfolio and expertise, it noted, with Rijk Zwaan active across all types and offering more than 50 high-wire cucumber varieties in its assortment, ranging from snack cucumbers to long cucumbers.
"The long-standing relationship of trust with growers enables Rijk Zwaan to not only dream with growers about the future, but also to dare to make decisions and subsequently to do what has been decided," it said. "This has led to the development of strong varieties such as Skyview, Verdon and Bonwell. Together, a solution can always be found – for any climate, any greenhouse and any season."
Rijk Zwaan said that 'The future is sky' series would see the company share its expertise on industry trends and present growers' and breeders' inspirational real-life stories to underline just how much the company values its partnerships.
"You can plant the seed yourself, but true growth is achieved together. 'The future is sky'," it added.
Events plan
Meanwhile, Rijk Zwaan has said that it is gearing up for busy schedule of events in June, starting by presenting its promising new and colourful varieties at its own Hydroponics and Outdoor Demo on 13-24 June in Dinteloord.
At the demo it will present its living lettuce concept Salatrio and Salanova as well as its fresh-cut salad solution Salanova Teenleaf, among others.
Alongside the hydroponics demo Rijk Zwaan is also hosting its outdoor demo, involving products such as the cauliflower varieties that are part of its Bloom label, plus the Pb Defense varieties that have strong resistance against clubroot.
From 14-16 June, Rijk Zwaan will be exhibiting at GreenTech in Amsterdam, highlighting its knowledge of high-tech greenhouse production methods, its specially bred varieties for high-tech cultivation, retail markets and cooperation within the greenhouse supplier network.