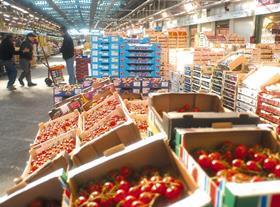 Stéphane Layani, president of Rungis International Market has welcomed the announcement by French prime minister Jean Castex of the imminent resumption of the "primeurs train" between Rungis and Saint-Charles International platform in Perpignan.
Next month's planned reopening of the so-called "early-bird train", which enables companies to transport fruit and vegetables in refrigerated wagons, is part of the government's plan to invest €1bn by 2024 in the development of rail freight.
'I am delighted with the announcement of the October relaunch of the Perpignan-Rungis rail link, which is long-awaited by companies at Rungis Market, first and foremost by shippers," said Layani. "I thank the government for making the relaunch of this line a top priority."
Layani stressed the huge importance of the rail freight line, both to companies working at the market and to the environment.
"More than a hundred companies in the Market will once again be able to receive their products by train," he said. "A logistics platform the size of Rungis cannot depend entirely on roads. Rail service is essential for securing supplies, for market resilience and for adapting to environmental requirements. It is also reassuring that this link is restarting during the busy period of activity, in particular as the end of the year holidays approach."
Rungis said that work would continue to promote the expansion of rail links on the site, with a consultation set to be launched in mid-October to develop a combined transport terminal.
The Rungis-Perpignan link had been suspended in part due to the dilapidated condition of the wagons. According to the ministry of transport, it represents traffic of approximately 9,000 trucks a year.
A call for expressions of interest was launched by the state in 2020 to select an operator to take responsibility for ensuring the return to service of the primeurs train and to operate it, with Rail Logistics Europe (RLE) winning the project.
RLE's offer is set to combine early-bird train and container transport on the rail motorway along the Le Boulou-Gennevilliers axis, according to the transport ministry. Consisting of 12 wagons, the Perpignan-Rungis line will run at a rate of five connections a week between November and mid-July, Le Monde reported.