A new promotional campaign for SanLucar tomatoes is launching in German supermarkets, promising "Our recipe for good taste"
SanLucar has revealed that it is joining forces with the Kitchen Stories cooking platform for the fourth time to launch a new promotion in German supermarkets under the slogan "Our recipe for good taste".
The producer's sun-ripened tomatoes will be used in Kitchen Stories' easy-to-prepare recipes, including flatbreads with cherry tomatoes, spicy tomato and egg topping or tomato salad with watermelon and feta, designed to arouse anticipation of summer.
Kitchen Stories is a digital, video-based cooking platform, available as an app, website, on smart TVs or via Amazon Echo Show.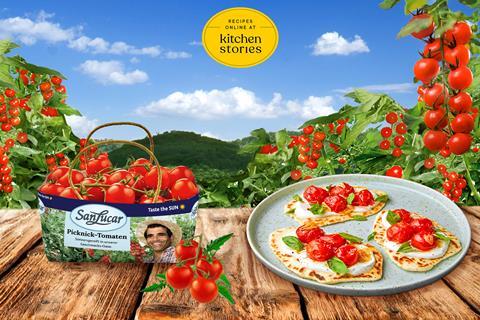 "SanLucar tomatoes, which are available in the flavours tender-sweet, savoury-sweet, and fruity-intense, taste exceptionally aromatic," the company stated. "They are left to ripen on the plant for longer than usual and receive a unique mineral mix with the irrigation water from a nearby thermal source."
"Cooking with fresh, delicious ingredients, such as our tomatoes, is a lot of fun," said Nuria Pizán, brand and creative director at SanLucar. "Especially when the dishes are as easy as those from Kitchen Stories. We are happy whenever we inspire our customers to cook. Because our vision is to bring people natural joy of life and health."
The campaign is set to be promoted at point of sale with signage, display stands and recipe folders, with summery designs aiming to attract German shoppers' attention.