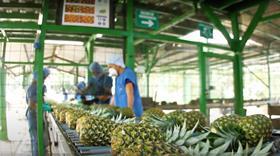 French importer SIIM, a subsidiary of Omer-Decugis & Cie, has announced the world's first 'Zero Carbon' pineapple.
By measuring and offsetting the carbon emissions from its plantations in Santo Domingo, Ecuador, to its platform in Rungis International Market in Paris, the Terrasol pineapple has been certified as carbon neutral by TUV Rheinland in the first half of 2021.
'We are particularly proud to announce the arrival of the first 'Zero Carbon' pineapple in the world, from the farm to its final destination," said Vincent Omer-Decugis, chairman and CEO of Omer-Decugis & Cie. "This is the result of hard work and the mobilisation of all our teams, both in Ecuador and in France. It is a major step towards a more sustainable future, in accordance with the Sustainable Development Goals (SDGs) defined by the UN for 2030."
Grown at zero latitude on the side of the Andes, the pineapples benefit from an exceptional terroir, ideal climatic conditions and the historical know-how developed by its producers.
According to SIIM, the pineapple has been marketed under the Terrasol brand since 1961 and has gained recognition in Europe for its sweet taste.
Up until now, Terrasol pineapples were GlobalGAP and Rainforest Alliance-certified and BSCI-audited, but this latest effort goes a step further in terms of sustainability, the company said.
"It confirms the Group's deep commitment to the fight against global warming, objective number 13 in the SDGs set by the UN for 2030," a press release stated.
The emissions produced in the cultivation process have been offset by the conservation of the Tinajilla-Río Gualaceño protected area, located in the municipality of Limon Indanza. A cooperation agreement has reportedly been signed to preserve 1,986ha of primary forest.
"The forest in the protected area has a carbon capture index of 3.25 tonnes of CO2 per year, with 6,454 tonnes of CO2 being offset," SIIM revealed.
The mayor of Limon Indanza, Erik Bustamante, stated: "Thanks to the support of private companies, we have been able to preserve more than 32,000ha in our municipality and carry out concrete actions, such as the monitoring and control of species of flora and fauna and the establishment of educational programmes focused on conservation."
The emissions generated by logistics, a total of 7,364 tonnes of CO2, were offset through a clean development project in Brazil.
By calculating the carbon footprint of the Terrasol pineapple, the company has been able to devise a plan to address the main sources of emissions, with an aim to reduce carbon emissions in the production process by more than 20 per cent by 2025. The inventory of carbon emissions and the offsetting strategy were produced by environmental consulting company Sambito.
According to SIIM, this sort of "carbon neutral" project will gradually be extended to other fruits in the company's product range in the future.