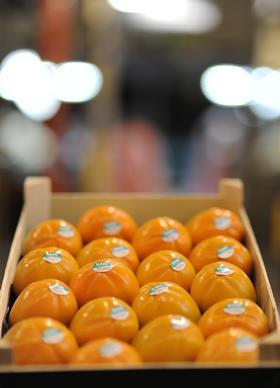 Growers of PDO-certified persimmons in Spain's Ribera del Xúquer valley near Valencia say they expect to market a significantly smaller crop of 80,000 tonnes around the world this season, after 40 per cent of their crop was damaged by adverse weather and a new pest called citrus mealybug.
The Kaki de la Ribera regulatory council, which is responsible for marketing the fruit under its trademarked PersiMon brand, had previously said it expected volumes of its distinctive Rojo Brillante variety to be similar to last year.
Rafael Perucho, head of the regulatory council, stated: "The damage to this year's crop is a result of the challenges posed by this year's unpredictable weather and a new pest which has attacked the PersiMon, both of which have affected fruit production."
Various downpours of rain and hail, together with the prevalence of the pest citrus mealybug (Planococcus citri), mean that a significant part of the crop will not be picked, he said.
"Nevertheless, the PersiMon that does reach the marketplace will of course comply with the usual quality criteria as set by the PDO."
The aim of next year's campaign will be to continue to create awareness of PersiMon's quality and unique benefits among consumers and trade partners in key markets like the UK, where it sold around 4,000 tonnes between October 2020 and January 2021.
According to data from ITC, Spain's top ten export markets for persimmon sales in 2020 were Germany(US$56.4m), Italy(US$29.4m), France(US$25.1m), Netherlands(US$12.1m), Poland(US$10.2m), UK(US$8.5m), Saudi Arabia(US$7.6m), Canada(US$7.1m), Portugal(US$7.0m), and Czech Republic (US$4.7m).
"All in all, PersiMon is still a relatively unknown fruit in many markets, and so we are sure that over time, through investing in promotion and the work of the sector, we will be able to reach many more markets and consumers, as we are convinced that it is a fruit that still has some way to go," Perucho added.