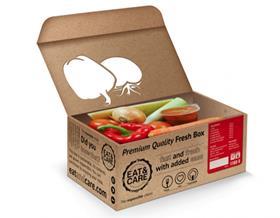 Dutch fresh produce company Staay Food Group has revealed that it is introducing a new version of the 'fresh box' concept that is already popular in the Netherlands.
Staay's fresh box package houses all the ingredients needed to make a fresh meal for four, but it also includes a 'taste cup' containing a fresh, concentrated sauce to make preparation even easier.
According to IRI, sales of fresh box products rose from €9.7m to €24.8m between 2016 and 2018, an increase of 156 per cent, while in the period to week 32 of 2019, sales have doubled compared to the same time last year.
'The packages currently on the market add something like a sprig of herbs or a clove of garlic to the vegetables,' explained Staay Food Group in a news release. 'However, although the vegetables in the packages are often nice and fresh, the sprig of herbs or clove of garlic is often dry or bruised, which can affect the taste of a meal. Common additions such as bouillon cubes, a tin of tomato puree or a sachet of curry paste are often produced with artificial additives.
'To solve this less positive aspect of current fresh boxes, Staay Food Group has now developed the taste cup. This contains a fresh, concentrated sauce that combines the separate additions in a single pot, making it even easier for the consumer to prepare a tasty, fresh meal quickly (within 30 minutes), without using any artificial additives.'
The sauce, which is produced by Staay itself at subsidiary Fresh Care Convenience, contains, fresh ingredients with no artificial flavourings or colourings, and It has an 'excellent shelf life', even outside the fridge, thanks to the production process.
At the moment, the full range of fresh boxes consists of curry madras, pea soup, pumpkin soup, vegetable soup, lasagne and tomato soup, with the lasagne package the first package to be supplied with a taste cup.
This range will be further expanded in the future, Staay confirmed.
In addition, the fresh boxes are supplied in strong cardboard boxes that can be efficiently stacked on a pallet.
Staay Food Group is presenting an Eat & Care version with a 3-step sustainable concept at the Fruit Attraction.
'The concept of the fresh box also reflects the green character of the Eat & Care label,' the group added. 'It prevents food waste because the consumer buys exactly what is necessary for a dish and thus doesn't need to throw anything away.'