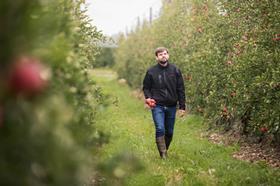 Swing.Bio is produced exclusively organically in France. Can you tell us a bit about this variety and what makes it so suitable for organic farming?
Baptiste Geoffray: We are a group of growers involved in finding new growing methods to reduce our environmental impact. The first time we saw the variety and its inherent strength, we fell in love with Swing.First, its history and origins are fantastic. Twenty years ago, a few guys set out on an expedition to the farthest reaches of the mountains of Tian Shan. At altitude, they discovered primary forests with large and native apples trees. These apples trees thrive in extreme temperatures surrounded by endemic life. During this expedition, they discovered one of the close Swing ancestors, a native apple tree.
So Swing carries this unique heritage. It has good resistance to aphids, it is scab resistant, it is powdery mildew tolerant and it has good storage capacity. These gifts from nature make Swing born to be an organic apple. We created the Swing.Bio and Swing.Organic brand so it is only grown as organic in France and we are now 35 grower families involved in the project.
In fact, you want to go a bit further than organic with Swing, especially when it comes to biodiversity. Is that right?
BG: At every stage of this project development, we tried to think about how to have a positive and sustainable impact – for nature, for growers, for people we could help. Biodiversity is an essential point on our way to growing Swing apples. Swing.Bio is a driver of orchard innovation for us and an opportunity for us to do our share.
As Swing apples provide impactful natural resistance, it was obvious for us to adapt our practices and even go further with biodiversity in our orchards.For example, all our orchards in 2021 will be certified by the Bee Friendly label. Bees play a vital role in agriculture and biodiversity through their pollination.Bee Friendly is a European label that aims to identify and promote pollinator-friendly products and production systems. This label is developed, managed and secured by the Bee Friendly Association, bringing together European organisations of beekeepers.
We are also investing in an applied research laboratory in entomology – more specifically on the study of the link between insects and the landscape. They also make the link between basic research and application in the field, to create a virtuous biodiversity system impact in the orchard. We see it as a promising alternative solution to reduce pesticide use:looking for ways to promote wild auxiliaries and repel or avoid the establishment of pests in the orchard.

What about plastic? Are you trying to avoid plastic packaging wherever possible? Have you figured out the best alternative for Swing?
BG: Three years ago, we bought a 100 per cent cardboard punnet packaging machine. We bought a second one a few months ago with a different process. It is very challenging to find the right machine to be 100 per cent cardboard, avoiding all plastic, and continue to be very efficient in the packhouse. We are currently still working on it.

Swing is known for its good storage potential and flavour. Does this determine what export markets the apple will be targeted at?
BG: Swing is aromatic, with a high Brix of 15-16o. It's got a nice shape and its storage capacity makes it very suitable for export markets. We have had very enthusiastic taste feedback from the UK, Germany and many other European countries. Feedback from overseas markets is very good as well. Swing is quite universal, which is a great advantage for the variety's development.
But every market is specific so we must reach the expectation of everyone and never disappoint. It's very challenging. So far, all feedback is good and consumers, once they first taste the apple, are convinced that Swing will be something different. We are selling regular and more and more consistent volumes to Germany, the UK, Holland, and also Asian markets and the Middle East.

The Covid-19 crisis has highlighted the importance of everyone in the supply chain, including pickers and packhouse workers. Can you tell us a bit about the social aspect of Swing.Bio?
BG: Covid-19 was tough for everyone, including launching companies and projects. It is a challenge to develop a new variety this season. We really want to thank all the Swing.Bio family – the growers, partners and Red Moon Company, our partner in the Swing project. Our shared vision and investment have made this complicated season a success so far.
Agriculture in France is still a family businesses. Growers and their families are involved in the project and all employees as well. Swing is a project we want to lead as growers but also as citizens.
It is in our values to take great care of the social impact of such a project: there is a lot to do to educate our children to eat well, and help our growers to improve working conditions and growing practices. All these aspects of our job give us a strong sense of our daily life as growers. And we think it is also our responsibility to reconnect consumers to growers.
One example is our partnership with the association Ekolo in France. This association organises children's holidays with specific themes, including reconnection to nature. We will fund and help them to build a vegetable garden and a small orchard with different fruit trees, including Swing of course.

What do you think the future holds for Swing.Bio?
BG: We just finished the first stage of planting, so we've planted around 120ha in France. In four years, we are expecting around 5,000 tonnes. We will wait for the end of this season to get more information about the different export opportunities and also the domestic market to finalise when we will start the second wave of planting. The sooner the better, but we really want to build things step by step, ina responsiblemanner, whileremainingauthentic and focus on growing delicious and sustainable apples.