New label signals rugose resistance in tomatoes sold all around the world
Syngenta Vegetable Seeds has launched a 'ToBRFV Resistant' seal to indicate Tomato Brown Rugose Fruit Virus (ToBRFV) resistant varieties.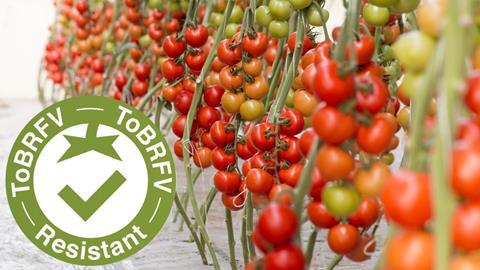 The company said the new seal embodies its commitment to delivering varieties with resistance to ToBRFV and other key diseases; maintain high fruit quality, including flavour, shelf life, consistency, and transportability; and to continue research into solutions for ToBRFV and any other pest that impacts production.
Syngenta's experts were on hand at this week's Global Tomato Congress, organised by Fruitnet Media International, to answer questions about solutions for ToBRFV. This disease has spread rapidly and is present on every continent around the world, spreading yield loss and quality concerns as it goes.
As well as disease resistance, Syngenta said it is dedicated to protecting the flavour profiles consumers have come to know and love.
"As we continue to add new varieties to our lineup, we're making sure they still taste great," said Ruud Kaagman, Syngenta global crop unit head, tomato. "Consumers love the taste of our tomatoes and choose them when they go to the grocery store, so with the introductions of new resistant varieties we want to make sure that growers can continue to deliver what consumers expect."
Kaagman, who was a featured panelist at the congress in a session on breeding resistances, continued: "Growers can lose up to 70 per cent of their produce due to the virus, and it's spreading rapidly. We're looking for solutions to ToBRFV without compromising resistance to other critical diseases."
According to Syngenta, the 'ToBRFV Resistant' seal tells growers they're getting a full tomato package – whether it's leaf curl, pepino virus, tomato spot virus, or simply concerns about fruit colour and shelf-life.
Ongoing research into new solutions against ToBRFV
The researchers at Syngenta are now taking the resistance currently on the market and introgressing it into new varieties and new kinds of tomatoes. The company said that because viruses are constantly evolving, it is committed to a stair-step approach to ToBRFV resistance, with each new mode of action discovered bringing a higher level of resistance than the last.
"We know the virus is changing and it can cause a lot of damage, especially in yield, impacting the plant and changing its behaviour," said Rik Lootens, Syngenta portfolio lead for tomato and blocky pepper, active greenhouse and high-tech production. "Viruses are unpredictable and hard to control. It's our goal to go as fast as possible to bring new resistances to the market.
"We have resistance and have had it for several years – since 2020. But we're continuing to research many new varieties in the beef segments but also in mini cluster, saladette, beef cluster, and more," he continued.
Syngenta has created the ToBRFV Information Center as a one-stop location for information about new ToBRFV resistant varieties, details on the virus and where it has spread, and phytosanitary tips.
The ToBRFV Information Center provides helpful tips for reducing transmission risk, including a video and downloadable checklist and infographic. These can be downloaded, printed, and posted in greenhouse spaces to inform employees and guests of best practices to keep tomato crops safe.