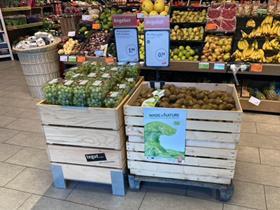 A project to raise awareness of organic fresh produce's nutritional and cultural values has launched a special promotional campaign for Italian green kiwifruit in partnership with German supermarket chain Tegut.
Made in Nature, which is managed by Italian agency CSO Italy and funded with support from the EU, has provided the supermarket chain with dedicated islands and information materials about the fruit, which is supplied by specialist organic supplier Brio.
The campaign will run for one week, from 5-9 April in a total of 100 Tegut stores across Germany.
'After the positive experience of the previous promotional campaign,' comments Brio's export manager, Anton Carra, 'we are happy to strengthen the collaboration with Tegut, a historic German brand that has been synonymous with quality organic products for over 40 years.'
The project, which includes various B2B and B2C activities, ran its first week-long promotion with Tegut at the beginning of March. According to Carra, the feedback from consumers was excellent.
'Thanks to this new initiative, we are sure that a growing number of German consumers will appreciate the superior organoleptic qualities of our organic Hayward kiwifruit.'
In the past few decades, Tegut has grown to become a major player in the retail distribution and sale of organic and natural products.
Part of Swiss group Migros, it now has a turnover of more than one billion euros, with over a quarter of its turnover derived from organic items it produces itself.
'Projects like Made in Nature represent an exceptional showcase for Italian organic fruit and vegetables,' Carra concludes. 'For Brio, this operation in the Tegut stores represents an excellent vehicle to reach even more widespread a market that has always shown great interest for quality organic products.'
Made in Nature's promotional activities are set to continue, targeting consumers in Italy, France and Germany with fresh and processed organic products from a number of leading Italian companies.
Producers involved in the project include: Canova, Conserve Italia, Lagnasco Group, RK Growers, Veritas Biofrutta, Mazzoni and Brio.