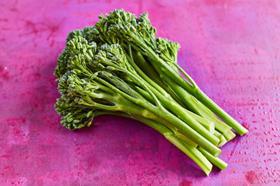 The latest figures from market analyst Kantar have revealed that Tenderstem broccoli is driving growth in the speciality vegetables category, as the leading brassica brand welcomes a strong crop that will help to secure a fruitful end to the UK growing season, which runs until early November.

The brand has reported growth year-on-year in terms of both volume and value, outperforming the specialist vegetable category by 25 percentage points in value for the full-year to 6 September 2020.
While the category as a whole has grown by 8.6 per cent from last year, sales of Tenderstem broccoli have increased by 34 per cent in value during the same period, Kantar revealed.
Tenderstem has also reported positive volume sales, with the speciality veg category up 5.2 per cent while Tenderstem grew 42.7 per cent, a result that has delivered 'real growth for the category overall'.

'This sustained evidence of consumer demand coupled with good availability of high quality, UK-grown product into autumn means the Tenderstem team expects a strong end to a productive season, where growers, licensees and retailers have all worked tirelessly to keep the best quality product on shelf,' the team behind the brand noted.
Foodservice volume sales of Tenderstem broccoli rose by 27 per cent for the month of August versus July 2020, which the brand attributes to the popular Eat Out to Help Out government scheme, with Tenderstem appearing on the menus of popular chain restaurants such as Wagamama, Giraffe, Wahaca and Miller & Carter as well as a vast number of independents.
"Thanks to the hard work of our growers and licensees, we have had a strong UK growing season and consumers are still able to get their hands on the best of British-grown Tenderstem broccoli into autumn,' said Tenderstem marketing manager Lacey Bradshaw.

"As Covid restrictions return to many parts of the UK, we expect at-home consumption to increase over coming months as consumers opt for Tenderstem broccoli as a trade-up vegetable for their Sunday roast dinner, or as a quick and easy addition to mid-week meals,' she continued. 'Whether consumers are following a recipe from their favourite cookbook or freestyling, the versatility of our stem-sational veg makes it a great addition to any kitchen."
Tenderstem broccoli is grown on farms in Lincolnshire, Hampshire, Herefordshire, Worcestershire and Jersey in the UK from June to November; for the rest of the year, Tenderstem is grown primarily in Kenya and Spain.
Enjoyed this free article from Eurofruit Magazine and its team of editors? Don't miss out on even more in-depth analysis, plus all the latest news from the fresh produce business. Subscribe now toEurofruit Magazine.