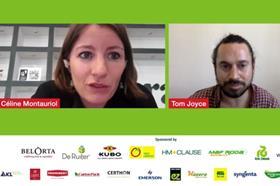 This week's online Global Tomato Congress, which attracted more than 2,200 delegates, highlighted the challenge of sustainability within the category, presenting a selection of tomato companies' recent efforts.
Céline Montauriol, sustainability director at Franco-Moroccan producer Azura explained how the company had managed to go carbon-neutral.
"Azura has been deeply engaged in sustainable development for many years," she said. "We are working on a plan on climate change to decrease our contribution and to adapt our practices to decrease our climate emissions. So we decided to be carbon neutral by offsetting every year what we haven't yet reduced."
The company completed its second Life Cycle Assessment last year to get an up-to-date view of its global environmental impact.
"The results show two specific things," revealed Montauriol, "how emissions on Azura's farms are three times less than tomatoes produced in its greenhouses. That's the first thing. And the other thing is that we have to work on packaging, because it represents more than 20 per cent of the global emissions from farm to fork."
Concerning packaging, Montauriol acknowledged that no perfect solution currently existed. Azura's trials comparing plastic packaging to cardboard, for instance, showed that using cardboard packaging required one additional litre of water per punnet.
"There is not a clear solution," she said. "We've done some trials. We have to work with our packaging supplier, and we have to involve the whole supply chain and value chain."
Juan Gallego introduced the sustainability plan of Granada La Palma, including the Spanish cooperative's zero residue project, its actions to reduce its water footprint through the use of Smart Agriculture and its use of solar energy and 100 per cent waste management in its greenhouses.
Gallego said the cooperative was reducing its water footprint by 5 per cent per year and its carbon footprint by 8 per cent per year in its greenhouses. "These are numbers that we consider a good achievement," he said.
Tim Tijsma, energy and sustainability manager at Dutch greenhouse specialist Van Der Hoeven, discussed the possibilities when it comes to greenhouse projects, using Sara Farms in Japan and Sundrop Farms in Australia as case studies.
"At a very early stage we look at the local climate," he said, "and what we have to do to create a suitable indoor climate in our greenhouses and what technologies are required, but also what kind of energy sources are available and how can we use these in an efficient way."
At Sara Farms, he revealed, biomass provides all the heating, cooling and carbon dioxide needed for the greenhouse, while at Sundrop Farms, the greenhouses are cooled by seawater and powered by solar energy.