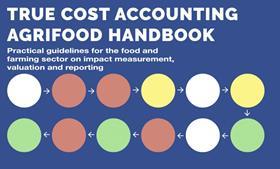 Thanks to an initiative between Dutch organics specialist Eosta and German food manufacturers, a manual for calculating the hidden costs of food production, the True Cost Accounting AgriFood Guide, has been published.
The handbook, which is downloadable, was presented on 10 March at the German National Dialogue "Eat Together Sustainably".
It offers firms a "practical method and guidance to measure and price the previously hidden costs along their entire value chains", according to Eosta.
"Based on this understanding, companies and political decision-makers can take specific measures to reduce the negative impact of food production," it stated.
Globally, the market value of all food consumed is estimated at US$9tr, the company said. However, the cost to the environment and society, it continued, is estimated by independent organisations at US$19.8tr, more than double that figure.
"These hidden costs are not borne by companies and are often passed on to other countries, especially in the Global South, and future generations," Eosta stated. "Conversely, measures to conserve biodiversity from sustainably managed farms also remain invisible. The way food and agricultural goods are produced affects our environment, health and society in many ways. The negative or positive effects on the climate, soil fertility or water pollution are not reflected in the prices in the supermarket."
To make companies take responsibility, Eosta sees the need for a change in accounting practices. As does the German coalition government, which stated that "ecological and social values ​​should be integrated into existing accounting standards in dialogue with the private sector".
The initiative, named 'True Cost - From Costs to Benefits in Food and Farming' initiative is made up of a broad alliance, including Eosta, Gepa, Hipp, Lebensbaum, the Martin Bauer Group, Primavera, NGO Misereor and the GLS Bank.
Led by consulting firms TMG and Soil & More Impacts, the initiative has been developing the True Cost Accounting AgriFood Handbook over the past three years in order to enable companies to measure and quantify any environmental and social effects comprehensively.