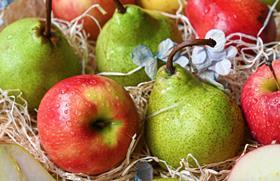 South African deciduous fruit grower organisation Hortgro said that it has enjoyed a successful apple and pear season in the UK market despite challenges such as Brexit and the ongoing Covid-19 pandemic.
The organisation said that it had seen a 9 per cent increase in this year's apple and pear exports, with approximately 33m cartons of apples being exported worldwide.
The UK was the third-largest single export destination for the country's apples, receiving 6.1m units and taking 19 per cent of all exports.
Some 15.5m cartons of pears were exported globally, of which 1m units were sent to the UK – an increase of 36 per cent on the previous year.
"Despite many challenges, such as logistical problems at ports and global disruption of logistical chains, the South African pome fruit growers again showed their agility and ability to adapt to strenuous conditions, and still managed to deliver a phenomenal harvest – surpassing all expectations,' said Jacques du Preez, Hortgro general manager of trade and markets.
Marketing success
The 2021 apple and pear marketing campaign combined B2B and B2C promotional activities, which communicated the industry's USPs.
These included the taste and quality of the fruit guaranteed by the Mediterranean climate, steep hillsides and over 100 years of experience; the seasonality of South African apples and pears, which are available when European produce isn't; the ethical work of the industry which provides education, housing, and farm management opportunities for its workers; and the efficient logistics of the industry.
Advertorials and digital banners appeared in special editions of industry publications, increasing the online exposure of South African apples and pears.
Further activity included new seasonal recipes, that were featured in the consumer press, on the campaign social media channels, and on the campaign website.
Stonefruit season
Hortgro has now turned its attention to the stonefruit season, which began this month. The stonefruit UK campaign aims to highlight the quality and sustainability of South African produce.
It also promotes agriculture as a force for good in South Africa, where the deciduous fruit industry is key for job creation and contributes substantially to social welfare programmes in rural areas – thereby creating stability within the national context of high unemployment rates.